Sunflower Christmas Trees Are A Cheerful Twist On The Holiday Classic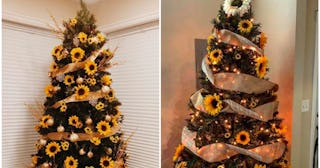 Instagram/@alanahsaurusrex/@liyahbobeah
This Christmas, ditch the ornaments and decorate your tree in sunflowers
Sunflowers are one of those super flowers that are available year-round, which might explain why they've become a surprising Christmas classic in recent years. We've seen metallic Christmas trees, rainbow Christmas trees, even glamorous goth trees, but sunflower Christmas Trees are here to shake up Christmas, and we are very much on board with this cheerful new trend.
Sunflower Christmas trees have been slowly creeping up on social media over the years, and it's about time we take this summery trend more seriously.
These trees look great with minimal decor and you could easily use faux flowers instead of the real thing for a low maintenance look. Hell, you could get a fake tree, fake flowers, and then just keep it up year-round. You could call it your "Sunflower tree." Who needs Christmas, right?
We love this trend for Christmases in warmer climates. Speaking as a Southern Californian, I've always found it strange to decorate Christmas trees with faux snow, sled ornaments, and snow globes when it's literally 78 degrees outside.
You could also do a faux white tree with sunflower accents, which is super chic.
If you are one of those people who put their Christmas tree out in November (no shame, we stan a holiday enthusiast here), you could do orange and yellow sunflowers for a perfect transition tree that'll get you from fall to winter.
We love the trees that effortlessly blend yellow sunflowers with traditional Christmas gold accents.
Merry Christmas, happy summer, whatever it is, get a sunflower tree!
This article was originally published on