Be Extra AF This Summer With Glittery Sunscreen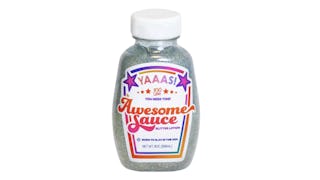 Image via Sunshine & Glitter
You can be safe and fabulous this summer with glitter sunscreen
I don't know about you gals, but I'm pretty garbage when it comes to wearing sunscreen regularly. My face is covered because I only buy moisturizers that have SPF, but I end up with the Baseball Mom arm and chest sunburn every May like clockwork, that is, until now.
Because there's glittery sunscreen and I'm going to buy 12 gallons of it.
Hardly anyone can say it's fun applying sunscreen. It's often greasy, smells funny, and can make your skin look slimy. Not anymore, y'all. Behold. Glittery sunscreen from a Miami company called Sunshine & Glitter (natch):
Party Cake Rainbow scented? Yes, please.
Happily, the glittery goodness doesn't stop there. The brand also sells glitter-filled lip gloss, body lotion, bug spray, and after-sun lotion for when you forget to put on enough glittery sunscreen and end up with a burn.
And the sunscreen comes in several scents including Very Berry, Mango Tango, and a variety pack of travel-sized amounts.
They also have glittery hair detangler for when all those ocean waves and chlorine-soaked adventures leave your locks looking less than fab.
What are you waiting for? Make the mundane task of being sun-safe as gorgeous and exciting as possible. Order one of everything. We'll be right there with you.
This article was originally published on