There's A 'Super Mom' Costume That's Somehow Not Yoga Pants And A T-Shirt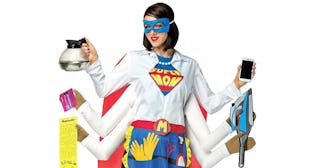 Party City
You can go out and buy this "Super Mom" costume for Halloween — or you could just throw on leggings and a hoodie
We're about five minutes into September which means it's already full-fledged Halloween/Pumpkin Spice season. With this special time of year comes the fun of costumes and normally, for a mom, that just means tracking down stuff your kid will wear for no more than an hour before making you carry it for the duration of trick-or-treating. Not this year. Oh no. This year the costume fairy thought about us — there's an actual Super Mom costume for sale.
Or, you could just throw on your stained hoodie, softest leggings, and hit the road. But that wouldn't be any fun now, would it?
That's why we're fortunate the Party City gods have blessed us with this kind of hilarious ensemble. In case your day-to-day Crazy Eyes, hole-y yoga pants, and dry shampoo-filled hair isn't quite "mom" enough to look the part, you can shell out an entire $49.99 for this bad boy. Behold.
It's got it all, y'all. Cell phone where you absentmindedly shut off all the alarms you carefully set to remind yourself to do various shit? Check. Iron you use maybe twice a year (because let's be real)? Check. Whisk… for… whisking? Super check. Lots of accessories and a few extra arms, which, frankly, all moms actually could use.
The other side features a coffee pot (which looks empty, dammit), a credit card, and a shopping list. I call bullshit on that list because if you're a real mom, you fly by the seat of your well-worn athleisure pants and bring home a nice rotisserie chicken for dinner despite having just bought an entire kitchen's worth of food.
The sassy mask and fake pearls really seal the deal.
A few things are missing, though. Where's the endless under-eye bags? And mugs of cold coffee? What about the minivan full of crumbs or is that sold separately? If not, it should be.
Sure, some moms really are this prepared and organized. But for some of us, being a Super Mom is signing permission slips at the bus stop (before tossing a pack of Pop-Tarts through the window). It's leaving your phone on a playground bench and going home without it because you were so busy chasing your toddler. It's burning dinner — or nailing it. It's everything and honestly can't be summer up with a silly costume full of Mom stereotypes.
But that doesn't mean we can't laugh at this hilarity and wish that being a Super Mom were actually this simple. This Halloween, feel free to dress as your true inner mom — or go all out with a lavish costume.