Supermom Breaks Marathon Record While Pushing A Stroller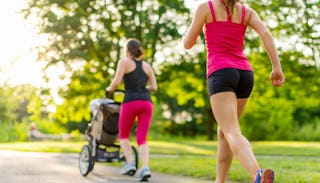 Image via Shutterstock
If you've ever pushed a stroller while jogging, you know how tough it can be. The typical run becomes a far more difficult work-out once you add a big stroller and 20 or 30 pounds of kid. One seriously fit mom proved that a stroller full of baby is no reason to not kick ass while running a marathon. Once you hear her story, you'll be bowing down. And possibly, inspired to dust off the jogging stroller and hit the pavement yourself.
Jessica Bruce, Ph.D., finished Abingdon Marathon in the United Kingdom with a time of 3:17:52. While the time is still pending as far as whether she's broken the Guinness World Record for a woman pushing a stroller during a marathon, Bruce is still in awe of her accomplishment. From Runner's World, the British mother of one says, "I am just quite amazed we managed to do it in that time. Nothing went wrong, and I was so encouraged by the support along the way."
Bruce began training for the marathon when her son Daniel was only four months old. With her husband working long hours, she had to take the baby with her on most of her training runs. Luckily, being in the stroller usually made him fall asleep, so she was able to log enough mileage to prepare for the race. Her husband was hugely supportive of her goal to set a record, running beside her the whole time and even holding a bottle for Daniel at the 21-mile mark of the race. He had to be careful not to touch the stroller or the record might not count. Obviously, a lot of thought and hard work went into making this happen, and it's beyond inspiring to see all the potential hurdles Bruce overcame to make her record-breaking finish.
As a mom who took a lot of time getting back into exercise after having kids, I am amazed by Bruce's accomplishment. Runner's World also mentions that she ran through week 30 of her pregnancy, so this was definitely a way of life for her before she got pregnant, but still. In that new mom haze of barely sleeping and constantly tending to the needs of a baby, I can't imagine having the motivation to train for a marathon so quickly after giving birth. I was simply proud to be taking slow walks at the park, where my babies would inevitably decide at various points that they needed to be held or nursed. The fact that Bruce got through an entire marathon with her son remaining in his stroller blows my mind. Any mom knows what it is to get through even a short run without their little one losing it.
We needn't hold ourselves to Bruce's huge accomplishment, but seeing what she did with a baby in tow is unquestionably inspiring. Maybe the average mom won't see this story and head out to train for a marathon, but it's heartening to see what she was able to do so shortly after having a baby. I know I had a lot of self-doubt after having my kids as far as getting back in shape and finding time to work fitness into my life. Seeing stories like this certainly puts it into perspective. If Jessica Bruce can break a marathon record, maybe I can stroll around my neighborhood for 30 minutes. For that reason alone, this is a tale we can all take something positive from.