Supply-Chain Issues Could Make Holiday Shopping A Nightmare This Year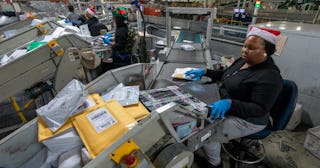 David McNew/Getty Images
This is not the year to procrastinate on your holiday shopping
It started with toilet paper and hand sanitizer and Lysol. Then it was new cars, chicken wings, and diapers — all products that either disappeared from stores or spiked in price due to pandemic-related supply-chain issues. Now, the next casualty just might be your Christmas gifts. Retailers are warning shoppers to start buying now (or better yet, yesterday) if they want to make sure they can track down everything they want this year.
There are so many different factors in play with the supply-chain snafu, making it so much harder to set things right. There are shortages of raw materials. Factories that shutdown at the height of COVID are still backlogged. There aren't enough workers to load and unload cargo ships, or truck drivers to deliver those goods around the country. Smaller stores can't compete with larger chains for inventory. Even publishers are worried about having enough paper to print books this year.
It's enough to make your head spin, but it all boils down to this year: the only way to give yourself the best chance of getting what you need is to get out in front of the competition.
I'll admit it: a few weeks ago, when I started seeing news reports about starting holiday shopping early this year, I sort of dismissed it as a ploy to get me to spend more. I was like, these are the same people that want me to buy my Halloween costume in July and my Easter candy in January — they've got ulterior motives, no?
But then I started seeing the issues for myself — products I loved discontinued, deliveries not coming on time, higher prices. All of that is only going to get worse when everyone and their mom is trying to shop at the same time, and the holidays are only two months away.
The even worse news is that supply chain nightmare could potentially last for years, according to Transportation Secretary Pete Buttigieg. Honestly, at this point we won't be surprised if we start hearing that we should start shopping for Christmas 2022 on December 26, 2021.
The one bright spot to the shipping woes this year, though, is that retailers like Amazon and Target know that with more people shopping earlier, the holiday deals need to start earlier, too. Both are rolling out promotions well in advance of Black Friday, so this year, instead of running around trying to shop while you're still digesting your turkey dinner, you just might be able to kick back and relaxing knowing that you've already gotten everything on your list.