Here's What Trump's Supreme Court Pick Could Mean For Reproductive Rights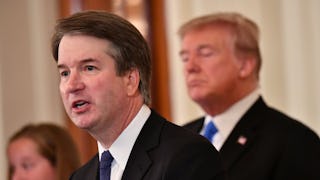 Image via MANDEL NGAN/AFP/Getty Images
Donald Trump nominated Brett Kavanaugh for Supreme Court
There's one seat open in the Supreme Court now that Justice Kennedy is retiring, and Donald Trump has officially announced his pick for the job. The president landed on Brett Kavanaugh, a conservative who has pro-life groups excited and pro-choice groups extremely nervous. Here's what his nomination could mean for your reproductive rights.
When Trump was campaigning for office, he told 60 Minutes that he would only nominate pro-life judges to the Supreme Court. If Roe v. Wade was overturned by those judges, he believed that the states should make their own decisions about reproductive rights.
Well, the president has stuck to his word. On Monday, he nominated Brett Kavanaugh, a federal judge who has a seemingly pro-life track record. In 2017, he was one of a panel of judges who ruled against an illegal teen immigrant's right to an abortion. He claimed that allowing the procedure would set a precedent for "unlawful immigrant minors in U.S. government detention to obtain immediate abortion on demand."
Thankfully, the teen was granted a safe abortion.
In 2015, Kavanaugh argued against Barack Obama's contraception mandate, which requires employers to cover birth control in their insurance plans. His stance on reproductive rights has pro-choice advocates concerned.
"We oppose the nomination of Brett Kavanaugh to the Supreme Court, and call on the Senate to do the same," Dawn Laguens, Executive Vice President, Planned Parenthood Federation of America, said in a statement. "There's no way to sugarcoat it: with this nomination, the constitutional right to access safe, legal abortion in this country is on the line."
Emily's List also released a statement, and strongly warned against the president's pick.
"One of Donald Trump's biggest campaign promises was to nominate Supreme Court justices who would overturn Roe v. Wade and do the right wing's bidding, and we take him at his word that he has chosen just that candidate," it read. "… Any nominee — including Kavanaugh, handpicked by right-wing groups for his views on abortion rights, among other issues — who supports overturning Roe or placing even further restrictions on women's access to reproductive health care is unfit to serve the American people."
Meanwhile, clashing protests have broken out outside of the Supreme Court. Pro-choice groups held signs that read "Protect Roe" and "Keep Abortion Legal." Pro-life groups celebrated Kavanaugh's nomination, and called for the overturning of Roe v. Wade.
Now, the country has to sit tight while Kavanaugh heads to confirmation hearings with the Senate Judiciary Committee. The party lines will inevitably be drawn firmly in the sand. Many Republican senators have already voiced support of Trump's pick and many Democratic senators have expressed firm caution.
"Whoever replaces Justice Kennedy will play a critical role in the lives of all women and every single American," U.S Senator Tammy Duckworth said in a statement. "Moving forward, I will thoroughly review Judge Kavanaugh's rulings, evaluate his qualifications and look for him to make it clear to the American public that he would be independent, not simply a rubber stamp for Donald Trump's whims, if he hopes to earn my support."
This article was originally published on