Supreme Court Refuses To Hear Republican Arguments To Defund Planned Parenthood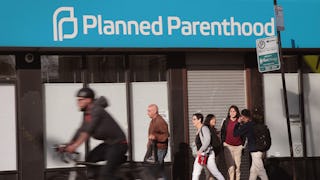 Image via Getty Images/Scott Olson
The move is seen as a huge win for women's healthcare
Today, the Supreme Court refused to consider efforts by some Republican-led states to block funding for Planned Parenthood. This means patients can use Medicaid coverage for pregnancy-related services through the health organization — a major win for women's healthcare.
The court left federal appeals court rulings in place in Kansas and Louisiana which said that states "violate federal law when they terminate Medicaid contracts with Planned Parenthood affiliates who offer preventive care for low income women," CNN reported. This is not for abortion-related services, but these laws were originally passed by legislatures who were against Planned Parenthood because they provide abortions. So, women were being denied the ability to receive other potentially life-saving services like mammograms, cancer screenings, and annual health checks.
Planned Parenthood is the nation's largest provider of abortions. Over two million women also use its clinics for reproductive and healthcare services mentioned above, many of whom are on Medicaid (one in five Americans are enrolled in Medicaid).
Despite concerns the highest court in the land may have a conservative slant given Justice Brett Kavanaugh's recent appointment, only three judges dissented — Associate Justices Clarence Thomas, Samuel Alito, and Neil Gorsuch – saying the court should've taken the case. Chief Justice John Roberts and Justice Brett Kavanaugh did not.
Conservatives have long fought against Planned Parenthood and other abortion providers, so this decision is one that is sure to fire up republican lawmakers and special interest groups.
"What explains the court's refusal to do its job here?" Justice Thomas wrote of the court's decision. "I suspect it has something to do with the fact that some respondents in these cases are named 'Planned Parenthood.' That makes the court's decision particularly troubling, as the question presented has nothing to do with abortion."
There have been similar defunding efforts underway in Arizona and Indiana, both of which were blocked. Cases in Ohio and Texas are currently being contested (Arkansas is the only state allowed to deny funds).
Kansas and Louisiana moved to terminate Medicaid contracts alleging, among other things, that Planned Parenthoods sold fetal tissue and body parts for profit, both of which have been disputed by the organization.
"States may not terminate providers from their Medicaid program for any reason they see fit, especially when that reason is unrelated to the provider's competence and the quality of the health care it provides" a panel of judges on the 10th Circuit Court of Appeals held last February. A decision that, for now, will be protected.