Supreme Court Justice Hot Sauces Exist And You're Gonna Want Them All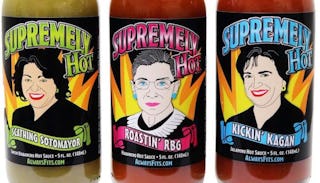 Image via Always Fits
Ginsburg, Sotomayor, and Kagan all have their own individual flavors
There's not much I wouldn't buy, watch, or put on my lips that's associated with Ruth Bader Ginsburg, and that includes this new hot sauce I currently have five of waiting in my shopping cart. But the fact that the manufacturers included two other Supreme Court Justice badasses will make you want to buy them even more.
Just when you thought it couldn't get any better than some good old-fashioned RBG hot sauce, the makers of this sauce of the gods, Always Fits, also acknowledged the incredible careers of Supreme Court Justices Sonia Sotomayor and Elena Kagan with a hot sauce of their very own — and we are all over this because these women aren't aren't celebrated nearly enough.
"Their dissents are scathing, their intellects are on fire and now they're hot sauce!" the makers said, and we couldn't agree more.
In honor of Ruth Bader Ginsburg's 86th birthday on March 15 (which should be a national holiday tbh), Always Fits released three bottles of hot sauce paying homage to all the lovely ladies. The line, called Supremely Hot Sauce because, of course, comes in three flavors depending on which Justice you'd like cooking in your kitchen.
First up is Scathing Sotomayor, a "green habanero hot sauce made from processed green habanero peppers, prickly pear cactus, fresh garlic, lime juice, and spices." If that's not your jam, you can try Roastin' RBG, a red habanero hot sauce "made with habanero peppers, carrots, fresh garlic, and spices." Or, if you need something a titch milder or are out of TUMS, try the Kickin' Kagan, a jalapeño hot sauce made with red jalapeños, garlic, and vinegar.
If you don't know as much about the other female Supreme Court Justices, take one statement from Kagan after Brett Kavanaugh was appointed to the Supreme Court. "We don't have an army. We don't have any money. The only way we get people to do what we say that they should do is because people respect us and respect our fairness." Sotomayor interjected, "we have to rise above partisanship in our personal relationships." Enough said.
If the name Always Fits sounds familiar, that's because they also brought us the inspirational Golden Girls hot sauces last year. With names like Bea Spicy, Desert Rose, and Hot Slut, it was hard to make a bad choice.
Each five-ounce bottle is enough to get your chicken wing on and you can buy each one individually for $10 or a three-pack for $27. Apparently, the hot sauce is already making waves (like the three intellectual powerhouses they are named after). "Please allow an additional week for your hot sauce to ship. They are bottling it as fast as they can for us! We'll remove this note when the hot sauce resumes shipping same or next day," their site currently says.
I suggest you fire up your electronic device and order all three stat. It's one small, tiny way we can honor these powerful women.