The Supreme Court Just Upheld Trump's Racist Travel Ban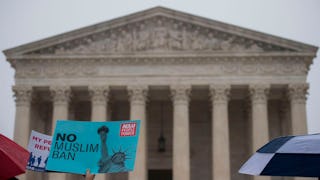 Image via ANDREW CABALLERO-REYNOLDS/AFP/Getty Images
The travel ban blocks people from certain countries from entering the U.S.
In the latest news that paints the U.S. as racist and ignorant, the Supreme Court just voted to uphold Donald Trump's travel ban, meaning people from seven countries will be restricted from coming to the U.S. The vote was along party lines, because of course it was.
Republican Supreme Court Chief Justice John Roberts wrote the opinion, affirming that Trump can unilaterally decide the people from Iran, North Korea, Syria, Libya, Yemen, Somalia and Venezuela are not allowed into the U.S. This is the third version of the travel ban, which originally also included people from Chad. Chad was removed from the list of restricted countries after it met security requirements.
It's interesting that North Korea is still included in the ban, after Trump met with North Korean dictator Kim Jong Un and widely praised him, despite longstanding reports that he oppresses, starves indiscriminately murders his own people. But since when do Trump's actions make sense? Also, maybe this will put the brakes on that bromance, because it is, frankly, terrifying.
Trump, of course, went straight for Twitter to celebrate the news.
The travel ban faced a variety of legal challengers, including the State of Hawaii, who argued the ban exceeded Trump's authority, and that his statements on the campaign trail that he intended to block entry for people from all Muslim-majority countries go against Constitutional ideals of religious tolerance.
"Plaintiffs argue that this President's words strike at fundamental standards of respect and tolerance, in violation of our constitutional tradition," Roberts wrote in his opinion. "But the issue before us is not whether to denounce the statements. It is instead the significance of those statements in reviewing a Presidential directive, neutral on its face, addressing a matter within the core of executive responsibility. In doing so, we must consider not only the statements of a particular President, but also the authority of the Presidency itself."
Democratic Justice Sonya Sotomayor wrote a blistering dissent in which she compared this Supreme Court decision to the time when the Court in 1944 upheld the constitutionality of Japanese internment camps during WWII.
"The majority here completely sets aside the President's charged statements about Muslims as irrelevant," she wrote. "That holding erodes the foundational principles of religious tolerance that the court elsewhere has so emphatically protected, and it tells members of minority religions in our country 'that they are outsiders, not full members of the political community.'"
In the Trump era, as we continue to have to face ugly truths about the prevalence of American racism, we're now confronted with yet another one: that the judicial branch, intended to be a bastion of fairness and equality, isn't free from the xenophobia that plagues the presidency and so much of today's politics.