Surfside, Florida Condo Collapse—What Happened And How To Help
by Elaine Roth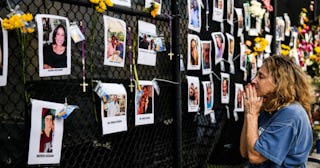 CHANDAN KHANNA/Getty
In the very earliest hours of June 24, the unimaginable happened. The thing that isn't supposed to happen happened. A thirteen-story condominium in Surfside, Florida, just north of Miami Beach, collapsed while most residents were asleep. Half of the 135 units in the building crumbled.
At least ten people died in the collapse. More than 150 people are still unaccounted for. It's an absolute nightmare in every sense of the word. Families have been shattered and devastated.
Why Did The Building Collapse?
Whenever a tragedy like this one happens, one of the first questions is why. The answer doesn't change the breadth of heartache, but it's human nature to want to make sense of things that don't make sense.
Often there is no answer to "why." In this case, though nothing is certain, there are theories. One particular theory focuses on a compromised concrete slab below the pool deck. A 2018 engineer's report found evidence of "major structural damage" to the concrete slab, as well as "abundant" cracking of the structural supports, including columns, beams, and walls, of the parking garage beneath the building.
At the time of the report, residents were told that the building was safe, despite the fact that the report warned that not repairing the issue would "cause the extent of the concrete deterioration to expand exponentially." However, at least one resident reported hearing suspicious sounds before the collapse. One man whose grandmother and mother were still missing as of Friday told CNN that his mother had heard "creaking noises" loud enough to wake her up the night before the collapse. He told CNN, "It was like a comment that she made off-hand, like that's why she woke up and she wasn't able to go back to sleep afterwards."
Another theory focuses on the effects of climate change on coastal buildings. Albert Slap, president of Boca Raton-based RiskFootprint, highlighted how tides plus rising sea levels might weaken a building's integrity. In an interview with The Palm Beach Post, Slap noted how "[e]ven if when the building was built in 1981 the foundation was dry most of the time, with sea level rise pushing groundwater up to the surface, the foundation could be wet enough long enough to soften the concrete."
The devastating reality is that there likely won't be one cause. Evan Bentz, a professor at the University of Toronto and an expert in structural concrete, told the New York Times that he'd "be surprised if there was just one cause." He noted, "There would have to be multiple causes for it to have fallen like that."
An investigation to the true cause is ongoing, and no doubt more answers will arrive in the coming months. Meanwhile, some residents have left the still standing portion of the condo building and officials have made arrangements for residents living in a sister building—a nearly identical building built by the same contractors—who feel unsafe.
How Is The Search And Rescue Proceeding?
Crews worked throughout the weekend on search and rescue and recovery. The effort has gotten international support, too. Experienced crews from Israel and Mexico are on site helping.
Their task is undeniably difficult, but local officials haven't given up hope, despite the fact that "rescuers stopped hearing noises that could indicate the presence of survivors days ago." On Monday Chief Andy Alvarez of Miami-Dade Fire Rescue spoke to Good Morning America and said his team had "found voids within the building."
Families of missing people can help, too. Miami-Dade County Mayor Daniella Levine Cava urged those families to contact the police. She said that detectives have not be able to reach all of the families of missing people and it's "critically important for our identification" that they do so.
How Can We Help?
Whenever tragedy strikes, we all want to know what we can do to help, even from afar. One way to help is to support the victims who've lost their home.
The Florida Division of Emergency Management highlighted two funds to donate to, noting that they "have been launched by trustworthy, local organizations to receive monetary donations: Support Surfside and the Surfside Building Collapse Victim Fund."
A local Miami news station also compiled a list of organizations that are working to help victims. The list is here, and the organizations are seeking specific items or monetary donations.
Mayor Levine Cava, however, urged people to donate money rather than goods, citing that many organizations have already received the items they need.
Local folks can check out @themichelledempsey who is sharing links to help restaurants who want to donate food to first responders and helping therapists with crisis experience connect with folks who need support.
Tragedies like this one can make the world feel unsafe and can open our eyes up to the fact that we don't have as much control over our next moment as we think we do. However, tragedies like this also often highlight the best of humanity in how quickly people from all over the world come together to support one another. There's no silver lining in tragedy, but there is some small comfort in knowing there's goodness in the world.