Things To Do In Surfside Florida With Kids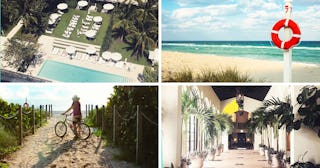 Town of Surfside
Surfside may be the perfect town for a family trip
Traveling with kids doesn't have to be hard. If you pick the right destination, it can be easy and fun for the entire family (even the mom who's planning everything). Nestled between Bal Harbor and South Beach, Surfside Florida is the perfect family destination because everything is so easy (and gorgeous). Here are some of the things to do in Surfside with kids.
First, the coastline
Surfside boasts a beautiful coastline, and if you stay in one of the hotels on the beach, your views are out-of-this-world amazing. It's a narrow beach, so if you have an ocean-facing room, you literally feel like you're floating on the sea. It's dreamy.
Your kids will LOVE the white sand beaches and small waves. It's just a very manageable beach — and anyone who takes their kids to the beach often knows what that means! No sifting through enormous crowds, no walking for miles to find the right spot — it's just so easy.
Beach and bikes!
What better family activity than renting bikes? Surfside has a continuous loop that works out to be approximately one-mile long. Along the ride you can peep the town, the beautiful beach, and gorgeous leafy streets.
Surfside's mile-long beach spanning from 88th to 96th street is such a nice respite from your usual beach crowds. It's clean and there's a beautiful walking path that butts up to the top of the sandy shores. If you stay at one of the oceanside hotels, there are also convenient beach chair and umbrella set ups.
The hotels!
There are a variety of beautiful hotels on the beach, but Surfside happens to be home to the historic Four Seasons at the Surf Club. This destination dates back to the 1930's — and the hotel offers everything to keep mom and dad happy (poolside drinks, anyone?), and kids will love their dedicated kids' pool and Kid's Club activity center that has everything from video games to dollhouses to a real, live bunny! The giant TV's in the rooms will help, too. Need some pool floaties? They've got 'em. Need a ride somewhere? There's a house car available for that. There is no detail left unturned at the Four Seasons — your kids will feel like VIP's for sure. The coolest touch? Waterproof bracelets that allow your kids to serve as your own, human room keys!
The Grand Beach Hotel has an incredible oceanfront view, amazing restaurants, and two locations — Surfside East and Surfside West. Surfside West even has two and three bedroom suites for larger families.
Walkable, friendly downtown district
There's nothing like taking a stroll after a long day at the beach — and the town of Surfside has plenty of places to keep kids happy. There's a ton of family friendly dining, cool boutiques, and quite possible the most amazing popsicle store your kids have ever seen. Morelia Gourmet Paletas has a selection of handcrafted pops made with natural ingredients. Flavors include everything from Belgian Chocolate to Greek Yogurt to Dulce de Leche. Once you choose your flavor, you can dip into their famous sauces and cover with fun treats. Your kids will LOVE.
If your kids start to complain about too much walking, the town has access to a complimentary URIDE shuttle.
Amazing community center
All Surfside hotel guests have complimentary access to the Surfside Community Center, home to a recreational pool, children's plunge pool and slide, Whirlpool spa and café.
Cool history
The town was founded in 1935, incorporated through the signatures of 35 members of the Surf Club. The Club was the idea of tire tycoon Harvey Firestone, and built by esteemed architect Russell T. Pancoast. To say the club was a blast in its heyday is an understatement: there was booze on the beach during prohibition, kayaks in the swimming pools, black tie boxing dinners, and lavish galas.
Turtles!
Protected loggerhead turtles return to the area every year between May to October to lay eggs on the beach. The species is threatened and the town of Surfside works diligently to make sure the nests go undisturbed.
Food, fun, sun, drinks, relaxation — is there a better way to spend a vacation?
This article was originally published on