Dad-To-Be Surprised With Pregnancy Announcement During Photo Shoot
by Maria Guido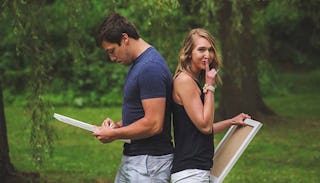 Wife surprises her husband with a pregnancy announcement during what he thinks is a couples photoshoot
Many moms-to-be have captured the moment they told their partners about their pregnancies, but this is a new twist on the baby reveal. Bri Dow convinced her husband Brandon they had "won" a couples photoshoot. But she had something else in mind.
The "plan" was that the couple would each write three words about each other on a chalkboard, then hold the chalkboard up for the photo. Cute idea, right? Not as cute as what was actually brewing behind the scenes.
"My photographer and I sat down to plan the details so when we got the park he would have no clue. Sam already had my board done so she just had Brandon write three nice things on his board," Bri explains on her Facebook page. Samantha Boos of Samantha Boos Photography shot the gorgeous portfolio.
"When we turned around, that is where the moment happened!"
Bri says of photographer Samantha Boos, "She was there on our wedding and there for our baby reveal, we can't wait for her to capture other future special moments in our lives!" Well, she's certainly talented. And her appreciation for the couple's journey shows in these gorgeous images.
"Bri and I got together about a week before the shoot and did some brainstorming of how we could creatively tell him. We decided on this idea and it turned out fantastic! It was hard for her not to tell Brandon when she found out but it was well worth the wait," Boos tells Scary Mommy. "I almost started tearing up just watching it unfold. But its hard to photograph anything crying!"
"I already told her that her next session is free whether maternity or newborn!" Boos commented on one of her photos.
The photos have been shared over 50,000 times. Fox 12 reports that their local Target even caught wind of the story and sent them a basket of baby stuff.
It's going to be hard to outdo these with the gender reveal.
This article was originally published on