2 Out Of 3 Parents Plan To Vaccinate Their Kids Ages 5-11 Against COVID
by Kristina Johnson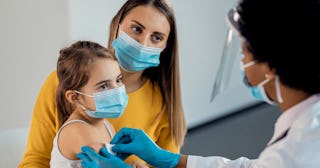 Drazen Zigic/Getty
A new survey finds strong interest in the COVID vaccine for 5 to 11 year olds
With the COVID vaccine for kids ages 5 to 11 likely just a few weeks away, a new survey shows the majority of parents are interested in getting their kids vaxxed. The Covid-19 Vaccine Education and Equity Project teamed up with the National Association of School Nurses (NASN) to poll more than 1,000 parents about their vaccine plans, finding that about two thirds were eager to sign up for the shots.
That closely mirrors the vaccination rate among American adults — about two thirds have been fully vaccinated so far. That similar number is probably no coincidence: the survey data showed whether that parents' own vaccine status was a good predictor of how parents would answer regarding their kids.
Parents surveyed also expressed strong support for vaccine mandates, with about 60 percent said they would agree with schools making COVID vaccines a requirement to attend.
NASN president Linda Mendonça, DNP, RN, PHNA-BC, said while the polling results were promising, they also highlighted "the need for increased efforts for continued education about the benefits of vaccination."
For the third of parents who said they wouldn't be rushing out to get their kids vaxxed, potential side effects of the COVID shots were listed as the biggest concern, followed closely by possible long term effects. About 45% of those parents simply said they believed their kids were too healthy and active for COVID to be much of a concern. 40% also aid they planned to "wait and see" how vaccines work out for others before making a decision, many of them citing the speed at which the vaccines were developed as a cause for caution.
"It's important to remember the role of parents and guardians, their job is to advocate for what they think is best for their child. If parents are apprehensive about vaccines, it's not because they don't want what's best for their child," Mendonça tells Scary Mommy. "As health professionals, it's our job to listen and understand their fears, and address them with evidence, care and concern, so parents and caregivers are equipped to make the best decision for the health and safety of their child."
Overall, about 75% of the parents surveyed said they worried about their kids getting COVID — a finding that was more pronounced in parents of younger children. For that 75% — knowing that the vaccine should be here in matter of weeks is likely very reassuring.
The FDA has a meeting scheduled to discuss authorizing the vaccine for 5-11 years old coming up on October 26, and if all goes well, the White House is said to be prepping for vaccinations to begin as soon as the first week of November.