The Cast Of 'Sweet Home Alabama' Wants To Do A Sequel And We Can't Even
by Julie Scagell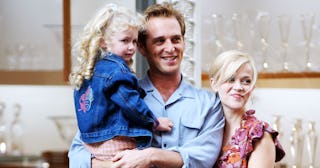 Bill Davila/FilmMagic/Getty
Josh Lucas hints that a Sweet Home Alabama sequel is happening
If you love romantic comedies, you're going to want to sit down for this one. One of the stars of the 2002 hit Sweet Home Alabama says the film may be getting new life by way of a sequel — and all our favorite cast members would be back.
Josh Lucas, who played the adorable Jake Perry, sat down with Good Morning America this week and talked with them about the possibility. "I've absolutely said yes," Lucas, 47, said. He also let it slip that he's been in recent discussions with the film's director, Andy Tennant, about it. "He and I discussed it extensively so we're lobbying the world to join us."
WOW. is it just me or is getting hot in here?
Lucas also talked about the possibility his love interest, Reese Witherspoon (who played Melanie Smooter) would be back for a second running. "I've even reached out to Reese, and I know Reese has said as well — it's an iconic film," he told Access Live last year. "I would love it because I would love to see where these characters ended up or where they are at this point in their lives."
For her part, Witherspoon had made it clear for years she'd absolutely be in. "We are not making a sequel that I know of, but if Disney wants to make a sequel, they can just call me," the Big Little Lies actress said. "I would happily make 'Sweet Home Alabama 2.'"
If you've never seen the original, please do so immediately. It's a storyline about a woman hell-bent on getting out of her hometown who makes her place in New York and ends up engaged to Andrew Hennings, played by Patrick Dempsey. The only problem is she's still technically married to Lucas, her childhood love who still lives in Alabama. Fast forward to a drunk night back in her hometown, babies in bars, and a whole lot of sexual tension, a broken heart, and you've got all the ingredients for a sweet Saturday night on the couch.
"The proposal … that the director had, which was quite interesting, is that my character [Jake] is back in Alabama and Reese's character [Melanie] is back in New York with our kids and we're divorced, so their whole life is super complicated," Lucas said of the potential plot line of the sequel. Seriously, our fragile hearts can't take another Jake and Melanie divorce.
"I kind of love the idea that they have actually divorced and been divorced for a while and he wants her back. Kind of to realize what he's lost again and that the kids even, that their lives have separated in some ways, and I think that's sort of the magic of that story is that there's an eternal love there," Lucas said. "That bond that they have. Even when they're apart, there's something connected about the two of them. And that they've had it since they were little kids."
If you're wondering about how they'd possibly fill Dempsey's shoes, you'll be happy to know he'd also be in for another film. He would "still be in the picture" Lucas revealed. Please for the love of all that's holy, let this happen. We need it.
This article was originally published on