Sweet Husband Conjures Up The Perfect 'Harry Potter' Surprise Party For His Wife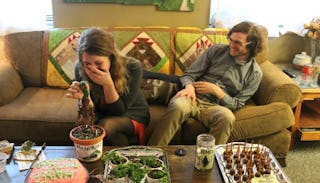 Image via Imgur
A young husband has set a new standard for men everywhere after creating the cutest Harry Potter-themed birthday party for his wife, a huge fan of the series. He thought of every detail and totally surprised her with his incredible creations. The photos she shared have since gone viral and are the epitome of adorable.
Amanda and Corey Kundert, both 26, have been together since they were 18. They live in Iowa and Amanda tells Buzzfeed that she came to love the Harry Potter series when she needed a book to read on a camping trip with her husband. "I decided on reading a Harry Potter book because they're quite long and I was not immune to the large community of Harry Potter fans and their never-ending praise for J.K. Rowling and her literary prowess. After the first book I was hooked, and I read all seven over the next few weeks."
That was a few years ago and now that Amanda is a bonafide super-fan of the books and movies, Corey decided to surprise her for her 26th birthday by throwing an epic Potter bash. Before the party, Corey took her to a coffee shop and gifted her with the film series on Blu-Ray and her very own Elder wand that he crafted for her. She thought that was all but once they arrived at their apartment, she was presented with this:
Corey, an admitted Potter neophyte who knew nothing of the books before throwing the party, meticulously researched every detail to be sure it was authentic. Amanda says, "I opened the door and my tiny apartment had been completely transformed. I couldn't believe the detail." Neither can I, frankly. This must have taken him ages from the research and procuring materials, to actually crafting every item himself. This is love, for anyone who was wondering. What else could motivate a person to go to such lengths to make someone else happy? Amanda is a very lucky wife, indeed.
After 10 long years of marriage, I appreciate what it means for a husband to make a grand gesture like this. Knowing how much time he put in solely for her happiness is downright heart-warming. This goes double once children are in the picture because busy, family life can make it very easy to forget what brought you together in the first place. Most of us probably don't expect this level of effort for our birthdays, but it's undeniably sweet and thoughtful that he went to all this trouble. Kudos to him, and a very Happy Birthday to Amanda.