If You Have Big Boobs, This Swimwear Line Is For You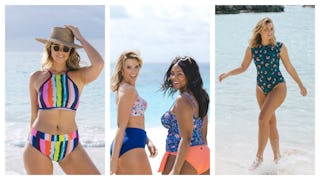 Cute suits for D cup and bigger? Yes, please
If you have large breasts and prefer to wear two-piece bathing suits, you know the struggle. Very few swimsuits are made to support women who sport extra boobage. And for those who find something, it often looks like something our grandmothers would wear. Fear not. There's a swimsuit company devoted solely to women with D cup and bigger chests.
The best part? The suits are cute as hell.
Boobie-Blessed Swimsuits With Personality
If you're like me and have literally struggled since age 14 to find a two-piece that fits your big breasts but doesn't look like it belongs on a retiree in Boca Raton, Lilly & Lime is a freaking goldmine. Founded in 2016 by Australian beach bums Emma-Jane Hughes and Ashleigh Hill, Lilly & Lime is here to help women finally find swimwear with personality. The struggle is over—Emma and Ash to the rescue!
The company has over 70 (I counted) styles which include bikini tops and bottoms, tankinis and one piece styles that come in sizes 28D to 40HH. That's right — they don't even carry all the smaller sizes. Frankly, there's no need for them to accommodate that crew since literally every other place that sells swimsuits almost exclusively carries those sizes.
It's Our Time To Shine, Fellow Top-Heavy Ladies
Big-breasted chicks are usually stuck with bikinis that either barely cover their nipples or are totally drab. For years we've watched the women with smaller or average-sized tatas effortlessly browse through racks of bikinis while we're stuck with hardly any options.
No more.
The tops come in several styles including classic underwire bikini, underwire halter, balconette, and tankinis. There are also bottoms in tons of patterns that come in both bikini and high-waisted designs. And, of course, Lilly and Lime has one-pieces.
Women of every size and shape deserve options that make them feel attractive and confident without having to worry about a surprise boob popping out during a sand castle building session with the kids.
You Know Your Boobs Best
The site even features a page where "real" women submit photos of themselves in Lilly & Lime suits so customers can get a better idea of how the suits look on different body types. Because how many times do we order a bikini online based on the model's appearance only to discover it doesn't translate quite as well for us?
Lilly & Lime understands that fit and sizing aren't universal across brands, you know, just like women's bodies. In fact, the company encourages women to measure before each swimsuit season because they know their boobs best. Measuring doesn't have to be a daunting task, you can wing it with stuff you have lying around the house like string, floss, or even toilet paper combined with a ruler or tape measure.
Then, with your first order, Lilly & Lime will send you a real deal measuring tape. Once you've got your digits, input them into the size check calculator and — BAM! — you've got your size and have unlocked oodles of cute as hell options made just for you.
Huge kudos to this company for making our big-boobied bathing suit hearts swoon.
Lilly & Lime is bra-sized swimwear, craftily designed for women who are D cup & up. Founded in 2016 by two busty besties, Emma and Ash, Lilly & Lime designs supportive, comfortable swimwear with personality in sizes ranging from 28D to 40HH. The line includes bikinis, one-pieces and tankinis available at www.lillyandlime.com.
This article was originally published on