Website Searches Tinder For Cheating Partners So You Don't Have To
by Ashley Austrew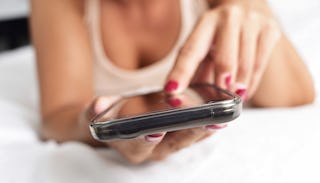 This website reveals cheaters by finding their Tinder accounts
If you've been in a relationship for more than a few years, chances are you haven't had the opportunity to explore the Tinder app that's revolutionized dating and hook-up culture. Swipe right, swipe left — what does it even mean? Luckily, you don't have to make sense of it in order to figure out if your partner is checking out hotties behind your back because a new website promises it'll do the sleuthing for you.
Swipebuster, which launched last week, is a website designed specifically to search through Tinder users for your significant other, based on information you provide — like the person's name, age, gender, and location. For $4.99, the website will let you conduct up to three searches and show you any matching profiles, including pictures, the last time he or she logged in, and whether they're seeking men or women.
The website finds its information in Tinder's A.P.I. — or, application programming interface — which Vanity Fair reports stores data about users and is easily accessible for anyone with a "certain understanding of computer code." The website's creator, who wishes to remain anonymous, said his mission is less about sticking it to cheaters and more about showing people how easily accessible their information is online.
"There is too much data about people that people themselves don't know is available," he tells Vanity Fair. "Not only are people oversharing and putting out a lot of information about themselves, but companies are also not doing enough to let people know they're doing it."
That's a noble mission and important thing to note, but I'm pretty sure the majority of people who end up on his site just want to know if it's time to swipe left on a partner who's been swiping right. Tinder and other dating apps have a bit of a reputation for facilitating infidelity. Tinder's representatives say only about one percent of their users are married, but as Vanity Fair reports, a survey conducted by GlobalWebIndex found as many as 42 percent of registered users are in a relationship, and 30 percent are married.
That's a hell of a lot of cheaters.
If there's one thing we learned from last year's Ashley Madison hacks, it's that there's no shortage of people willing to risk it all for a little online flirtation. This website just makes it more difficult for them to do it without getting caught. Obviously it serves a purpose, but it's kind of depressing just knowing a site like this even needs to exist. It may prove we're not being careful with the information we're sharing online, but it shows we're being pretty careless with our romantic relationships, as well.