Muslim Groups Raise Thousands For Victims Of Synagogue Shooting
by Jerriann Sullivan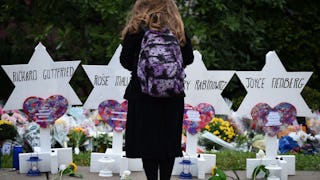 Image via BRENDAN SMIALOWSKI/AFP/Getty Images
Muslim community raises thousands for families of synagogue shooting victims
The Muslim community is raising thousands of dollars for the families of the victims who died in the mass shooting at a Pittsburgh synagogue this week. Eleven people were killed at the Tree of Life Synagogue when Robert Bowers allegedly opened fire.
Two groups in the Muslim-community, CelebrateMercy and MPower Change, organized the crowd-funding effort as a way to show support for the Jewish community that was attacked on Saturday. The money raised will go to those who were injured in the attack and to family members who lost loved ones in the mass shooting.
"Through this campaign, we hope to send a united message from the Jewish and Muslim communities that there is no place for this type of hate and violence in America," wrote Tarek El-Messidi, who organized the campaign. "We pray that this restores a sense of security and peace to the Jewish-American community who has undoubtedly been shaken by this event."
The original goal was to raise $25,000, but the group quickly hit that milestone six hours after they launched the online campaign. So, they updated their goal to $50,000 and continued to spread the word about their campaign. At this time, the group had already surpassed that goal and is now closing in on $125,000.
People are sickened by the hateful actions of a far-right extremist and want to help. More than a thousand people gathered at a vigil that was organized by local Pittsburgh high school students to honor the 11 innocent people who were murdered. El-Messidi told Mashable that he hopes the crowd-funding campaign "will inspire other similar acts of responding to evil with good."
The shooting on Saturday morning was a painful reminder of how much hate still exists in America and how badly we need stronger gun laws. Bowers used an AR-15-style gun when he yelled anti-Semitic slurs and allegedly murdered 11 people and injured six more. "This could have just as easily happened at a Mosque, or a Hindu Temple, or against people of color," El-Messidi explained. "This is a time when one group, who is feeling other-ized and discriminated against, could reach out in peace and solidarity and love to another group that feels the same."