These Syrian Wedding Photos Are Beautiful And Heartbreaking At The Same TIme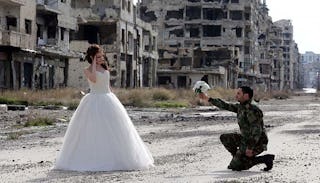 Newly-wed Syrian couple Nada Merhi,18, and Syrian army soldier Hassan Youssef,27, pose for a wedding picture amid heavily damaged buildings in the war ravaged city of Homs on February 5, 2016. A Syrian photographer thought of using the destruction of Homs to take pictures of newly wed couples to show that life is stronger than death. / AFP / JOSEPH EID (Photo credit should read JOSEPH EID/AFP/Getty Images)
A young couple in Homs, Syria, used the war-ravaged city as the backdrop for their wedding photos to prove life and love are stronger than death.
Syria has been in the grips of a terrible civil war for years, and the conflict has reduced much of the Syrian city of Homs to rubble. The ruins around the once-vibrant city are a distressing and heartbreaking scene, but this week one young Syrian couple decided to prove that life will go on by using the destroyed city blocks as the backdrop for their wedding photos, and the results are simultaneously beautiful and heartbreaking.
According to The Atlantic, 18-year-old Nada Merhi and her husband, 27-year-old Syrian army soldier Hassan Youssef, posed for their wedding photos in Homs last Friday. The bride wore a traditional white strapless wedding gown and carried an all-white bouquet, while the groom wore his camouflage-print uniform.
The photos depict a bittersweet reality for the young couple. They are young and in love, and it is sweet the way they are wearing their wedding clothes and gazing tenderly at each other, but behind them the city is in ruins. The couple and their wedding photographer, Jafar Meray, said they wanted to take these photos in front of the city's empty, desolate, destroyed buildings "to show that life is stronger than death," and their dramatic photos are certainly a testament to to their will to carry on in the face of terror and destruction.
The Washington Post, calls Homs Syria's "most devastated city," and that is saying a lot. The conflict in Syria is so terrible that approximately four million Syrians have been forced to flee the country as refugees to escape the death and violence around them. An exact death toll may never be known, but it is currently estimated to be more than 270,000 people.
It is a dark situation, but still lives are going on in Homs. The Syrian Army, which the groom in this couple fights for, successfully took control of Homs from rebels in November, but the battle reduced much of the city to rubble.
While the wedding was going on, the Syrian army was moving on Aleppo–Syria's second largest city–in the North. The military attack and airstrikes there sent an estimated 70,000 new refugees fleeing the city for the hope of safety in Turkey.
The photographer captured a moment of beauty in the darkness, and one can only hope the couple will look back on these photos someday when they are very, very old and remark with wonder about how the city looked during the war, which by that point will hopefully be a distant memory.
This article was originally published on