T.J. Maxx, Marshalls Tell Employees To Stop Promoting Ivanka Products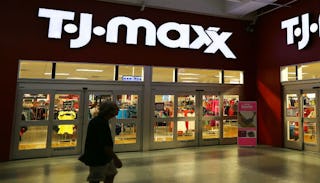 Image via Getty Images (Joe Raedle)
"All Ivanka Trump signs should be discarded," read the company note
The people have spoken with their pockets and it's working. Just days after Nordstrom and Neiman Marcus announced they were ditching Ivanka Trump products, another major retailer showed signs of distancing itself. T.J. Maxx and Marshalls – owned by the same parent company, TJX – sent out a company note to employees instructing them to throw away Ivanka Trump signs and mix the products in with regular merchandise.
"Effective immediately, please remove all Ivanka Trump merchandise from features and mix into the runs," a note obtained by the New York Times read. "All Ivanka Trump signs should be discarded." Quick note here, "runs" are the normal clothing racks that don't feature a specific brand.
"The communication was intended to instruct stores to mix this line of merchandise into our racks, not to remove it from the sales floor," Doreen Thompson, a spokesperson for the company said. "We offer a rapidly changing selection of merchandise for our customers, and brands are featured based on a number of factors."
"Ms. Thompson did not respond directly to questions about whether instructing stores to discard signs was unusual," reports the NYT. "But an employee at one of the company's stores, who was not authorized to speak publicly, said she had not received such a request during her several years working there."
The highly publicized retail separations from Ivanka, come amid boycotts of the brand for various reasons; most notably conflicts of interest.
Just today, we saw what looked like a free commercial for Ivanka's brand from the White House. "Go buy Ivanka's stuff," President Trump's senior adviser Kellyane Conway told Fox News in an interview from the White House. "I'm going to get some myself today." Can someone confirm the legality of what just happened there? Was that free advertisement for the First Family's business interests?
The president's own involvement with his sprawling family businesses and at times, endorsement of them, also raises ethical concerns. Right after Nordstrom made its announcement about dropping the Ivanka brand last week, President Trump blasted the retailer on Twitter (because of course he did) tweeting, "My daughter Ivanka has been treated so unfairly by @Nordstrom."
While Trump prides himself on being able to move markets with his tweets for his benefit, this one may have backfired. According to Fortune, Nordstrom stock surged right after the tempestuous tweet. So can we expect a tweet from Trump about the T.J. Maxx and Marshalls news? Shannon Coulter, the woman who started the #GrabYourWallet campaign is apparently wondering the same.
Whether the move by T.J. Maxx and Marshalls is financially motivated, politically driven, or just business as usual, is anyone's guess. For now, they seem to be telling the world that this happens routinely with brands they carry. It's apparently not unusual and NBD.
OK, but it is kind of a BFD (big freakin' deal) for the anti-Trump activists that have stayed steadfast in their cause and boycotted retailers who carry her brand. The list of retailers cutting ties or scaling back from the Ivanka brand seems to be growing by the day. So far: Nordstrom, Neiman Marcus, Shoes.com, Belk, Jet, ShopStyle, and Gilt have all dropped the brand entirely according to Business Insider. Their reasons were varied ranging from lack of demand for the products to simply changing out inventory.
The end result is still the same – waves are being made and wallets are getting slammed. The boycott is obviously punching bottom lines and it's causing retailers to question their deals. Simply put – it's a victory, especially for those who are very conscious about their purchases.
"I think they all have probably been looking closely at Ivanka's sales numbers and weighing whether they're worth all the problems she's brought them, " Coulter said.
If anything, the boycott has taught us one very empowering lesson: consumers are ultimately in control. Our purchases have power, and we should care about the impact.