Photographers Create The T-Rex Engagement Photos The World Needs Right Now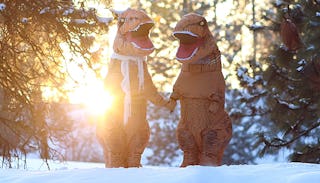 Image via Greg Basel and Maria Adams Photography.
T-rexes frolic in snowy landscape for hilarious photoshoot
Move over cats, T-Rexes are taking over the internet. And while they're currently known for their hilarious YouTube videos, we're sure you'll love these T-rex engagement photos just as much.
"We came up with the idea when we saw a lot of videos of the T-rexes, but no photos like ours," photographers Greg Basel and Maria Adams told Scary Mommy. "So we decided to take advantage of this opportunity and create engagement photos." They are amazing and, of course, are going viral.
"It was an absolute blast with these two T-rexes," the photographers said. "They both enjoyed being the [dinosaurs], and they said they would most definitely do it again." Just look at how much more fun this engagement shoot is than a typical one where you're gazing awkwardly into your lover's eyes while wondering, "wait, which side is my good side?"
Hold me, T-rex! "We wanted to bring smiles to people's faces and laughter instead of depressing, negative news we hear daily," they explained.
The professional photographers typically shoot weddings, families, and events, but headed to Mirabeau Park in Spokane Valley, WA for this snowy engagement shoot.
Sadly, the faces behind the dinos weren't revealed because they're not really engaged. Stephanie Mills and Marian Davis are just friends who wanted to help create something magical. "They were amazing that day, and they were up for anything," the photographers told us.
Regardless, they made a perfect pair, and the pics featuring the prehistoric models have spread all over the world. The photographers and the dino models are: "overjoyed from all the positive responses we have received from people."
"We wanted to let everyone in the world know that there is someone out there that loves you no matter who you are," the photographers told us. "Love isn't extinct!"
Awwww. Or should we say, rawwwr.