Why Do A Cake Smash When You Can Do A Taco Bell Smash?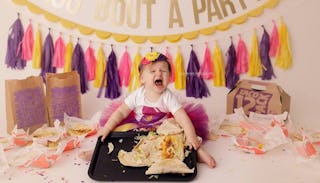 Image via Julia Marie Photography
Warning: these photos will make you want Taco Bell immediately
Cake smash infant photo shoots (or, adult ones) are super cute, but we have to admit — they're getting a little boring. That's why we're thrilled to see this Taco Bell-themed baby photoshoot, because who doesn't love stuffing their face with tacos while wearing an adorable tutu?
Luckily, it's a trend that seems to be catching on.
Monica Phillips was planning her daughter Delta's first birthday photos when inspiration struck. Photographer Julia Aiello of Julia Marie Photography helped conceptualize her flash of brilliance.
She tells Scary Mommy, "Monica and I have known each other for a few years now and most everyone who knows me knows my love/obsession for tacos and Mexican food. She came to me with the idea of doing a Taco Bell taco smash and I thought it was a fantastic and creative idea and that we would be the perfect fit!"
Looks like she was right.
Aiello says, "I came up with the actual set-up itself and approved it with mom first to make sure she loved it. I purchased the "taco bout a party" banner and the tassel banner on Etsy. I made the real taco shell banner myself. Mom told me from early on that she was going to start saving sauce packets which added the perfect touch!"
Phillips took it from there picking up a 12-pack box, two bags and the trays from the O'Fallon, MO Taco Bell.
The results are absolute perfection.
So, a little history here. Not only is Phillips into Taco Bell in general, the fast-food joint carries a lot of family meaning. "Monica went into labor with her second baby in the drive-through, but not with Delta! Mom and Dad also had their first unofficial date at the same Taco Bell years ago!" Aiello explains.
Looks like at least one of their kids inherited her parents' Bell enthusiasm.
Yes, I also basically rub tacos all over my face before I eat them. This is so relatable.
Aiello says Delta made the whole thing go super smoothly. "I was a little nervous as to how it would turn out because most babies either dig into their food or hate the texture and want nothing to do with it, just by judging how the traditional cake smash sessions go. I had Monica set the tray of tacos down in front of Delta and she dug in and went to town which I was not expecting that at all!"
That's because Delta knows a good thing when she sees it.
She also knows the only sensible way to cap off a Taco Bell feast. Total strip-down and hopefully, a bath.
This article was originally published on