Taco Bell Launched A Holiday Collection And Just Take All Our Money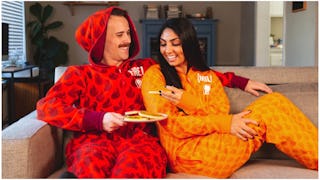 Image via Taco Bell
Taco Bell has a new holiday collection and it's a loud, hilarious dream come true
Is there anything better than gathering together for the holidays, opening presents, and eating all the candy canes? Why, yes, there actually is. Taco Bell launched a new holiday collection and it's truly the best thing that's happened since shredded chicken burritos were invented. Brace yourselves.
Like, it's called fashion, look it up.
The line includes sweaters, pajamas, t-shirts, and a whole lot of accessories. Ever wanted to rock a Taco Bell-themed onesie? Now's your chance. They're very orange and very cozy, but at $78, a bit of a taco splurge.
And why, yes, there are pajamas featuring Taco Bell sauce packets (because we could all use a little extra spice during the freezing months). There's also Taco Bell mugs, so you can sip your hot chocolate while cozying up in all your new gear. So.much.snug.
Ugly Christmas sweaters are cool and all but Ugly Christmas Taco Bell sweaters? Whole other level. These bad boys feature the iconic bell logo and allllll the tacos.
There's also a sweater that has Santa Claus riding on a sleigh, with a whole bunch of tacos leading the way. This is best worn while gorging yourself on your own set of tacos.
If it's a little too spicy outside for a whole sweater, give this ultra festive tee a shot.
While you're at it, you should probably (definitely) add some fun socks into the mix. These feature the Taco Bell symbol and are extra ~saucy.~
Are you more of a burger gal than a taco gal? Then I would like to turn your attention immediately to the Whataburger Christmas sweater, which is just as loud, just as proud, and will unflinchingly display your love of fast food to the world.
And, while you're at it, throw some Whataburger ornaments into your shopping bag as well (they feature the words: No Tomato, No Onion, Ketchup, and Bacon).
Will you have the coolest/weirdest tree on the block? Yup, we think so.
Now, go live your very best festive fast food life. Nothing says the holiday spirit more than a whole bunch of tacos and a onesie that makes you look like a life-size hot sauce packet.