These 'Taco Smash' First Birthday Photos Are Everything
by Maria Guido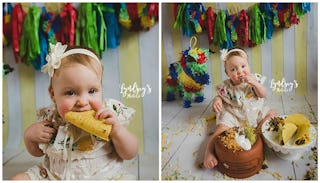 Image via Lyndsey's PhotoCo
Why have a 'cake smash' when you can have a 'taco smash'
Cake smashes are awesome. Who doesn't love watching an adorable baby shove cake in its face? If it weren't generally frowned upon to be an adult exhibiting that behavior, we'd be shoving cake into our faces all day long. That is what you call living your best life. But, we digress.
Photographer Lyndsey Wright got a little bored of the usual cake smash, and decided to branch out. When one of her good friends mentioned how much her daughter loved tacos, she knew what her first birthday photos were going to be all about.
"I was doing a lot of cake smashes and it was getting redundant," Lyndsey tells Scary Mommy. "I wanted to get outside the box a bit so I started asking parents if their babies had a favorite table food and if they'd want to do a smash with that instead of the traditional cake. I've done donuts, Christmas cookies, BBQ, spaghetti, popsicles, and a few others — but for some reason tacos popped into my head at some point last year and I couldn't shake it."
Alas, a new idea was born. The taco smash.
This is Stella. Lyndsey's been photographing her family very regularly since Stella's mom, Jordan Ogden, was pregnant with Stella's four-year-old twin sisters. The photo sessions led to Lyndsey and Jordan becoming friends. "I had done a barbecue smash in August that was a really big hit," Lyndsey explains. "While her and I were talking about that session I mentioned how hilarious a taco smash would be. She got super excited because she was planning on Stella's birthday being fiesta themed because of her love of Mexican food. The rest is history!"
"One of Stella's first foods was rice and beans. We have eaten out at our local authentic Mexican restaurant ever Wednesday since she was born," Stella's mom Jordan explained to Scary Mommy. "Her love for rice, beans & tacos was what inspired the fiesta themed birthday party."
As for all the attention the shoot is getting? "Friends and family are just as shocked as we are," Jordan says. "They think it's pretty cool Stella is an internet sensation!"
Best. Idea. Ever.
This article was originally published on