Taika Waititi Opens Up About PDA-Filled Pics With Rita Ora & Tessa Thompson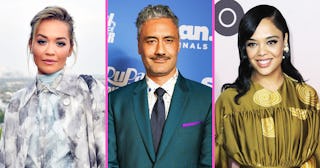 Stefanie Keenan/Caroline McCredie/Albert L. Ortega/Getty
One-third of the world's sexiest throuple shrugs his shoulders at the haters
Back in May, Thor: Ragnarok director Taika Waititi came under scrutiny when photos of him with singer Rita Ora and actor Tessa Thompson getting comfortable on a balcony in Sydney went viral. At the time, murmurs and whispers circulated that the family-oriented Disney corporation wasn't happy about how the trio appeared to take the theme of "It's a Small World, After All" to heart.
Please. As if Disney characters don't have sex. You KNOW Belle and Beast get nasty while the candelabra watches. Don't get us started on Maleficent. That chick knows how to get down, and no one can tell us otherwise.
Quick backstory: Waititi directed Thompson on the Australian set of Thor: Love and Thunder, set to be released in May 2022.
Ora was in Sydney filming The Voice.
The trio was photographed looking smoking hot and cuddling outdoors at Waititi's home as they sat in front of a small table of drinks.
In the photos, Thompson and Ora are seated on either side of the director. The pair are shown kissing each other as they lean over Waititi. Other photographs in the series showed Ora and Thompson snuggling close with Waititi as he placed an arm around each of them.
Waititi recently spoke to The Sydney Morning Herald about the super-hot PDA-filled photos.
In a certified boss move, when asked if he was angry the photos were leaked (and subsequently went viral), Waititi said, "Not really."
"I think in the world of the internet, everything goes away pretty quick," he said. "And also, 'Is it that big a deal?' No, not really. I was doing nothing wrong. It's fine."
Back in April, before the whole tempest in a teapot of hot people doing hot things, Ora posted a series of photos on Instagram that featured both Waititi and Thompson.
The slideshow includes a selfie of Ora and Thompson in a car, as well as a pic of Ora and the director snuggling.
"Good times, memories, random things on my phone and the ones I love … ❤️," Ora captioned the post.
As we head into a holiday weekend, celebrate your independence by loving whoever the hell you want.
Here's the deal: what people do in their own bedrooms (or balconies) is not my business, nor is it yours. If smooching with one person makes you happy, great. If smooching with more than one person at a time makes you happy, awesome. If watching your partner smooch someone floats your boat, then, by God, let that boat float.
As long as relationships are open, honest, and consensual, have at it, folks.
As my Nana used to say: "What you eat doesn't make me fat." Go get some.