This Police Force Has The Cutest New Recruits, Ever
by Megan Zander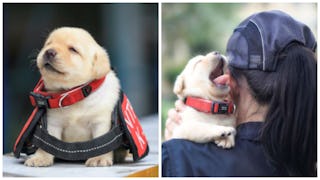 Just yelp for help
Reading the news in 2017 is rough stuff. It seems like every other headline leaves you sobbing or wanting to set your computer on fire. To help, here's the best news you'll read all day: the New Taipei Police K-9 Department has six new recruits, and they're seriously adorable.
We dare you not to saw "Awwww."
Partners and best friends.
Look how brave they are up there!
The force announced the arrival of their first ever K-9 pups on Facebook. People are loving this live action episode of Paw Patrol.
The one-month-old puppies are all American Labradors. Their names are Fushin, Brother, AJ, Schumann, Feida, and Full Moon.
The puppies are siblings, and part of a K-9 legacy. The NPA told Mashable that their mother, Yellow, and father, Leader, are already two of 22 dogs in the K-9 unit. They work in anti-bomb and anti-drug enforcement. While we don't usually condone nepotism, we'll let it slide for these precious balls of fluff.
Pan Tian-long, Captain of the K-9 Unit, told Buzzfeed that while the puppies look super sleepy in these photos, they're actually quite active. The officers take turns watching over the puppies and their mom overnight. We bet this is the one time the officers are begging for overtime. But on the off chance they're in need of volunteers to pupsit, please consider this our official application.
While the phrase "Blondes have more fun" is sexist and tired as hell, Pan admits Fushin, the only golden colored puppy, rules the rest. "Fushin is very special," he says. "He is the naughtiest and the bossiest." He's also getting a special assignment as a blood detection dog.
Gonna run this show…
Right after this nap.
Alright, he's ready.
Even though they look primed for a snuggle at all times, the pups are already hard at work. Officers are training them by placing the smell of narcotics near the dogs before meals so they get used to the scents.
If all goes according to plan, the dogs will be trained and become active members of the force. But if not we think we know the perfect job for them in the private sector — our personal pet.