The Internet Is Flipping Out Over This Present Wrapping Video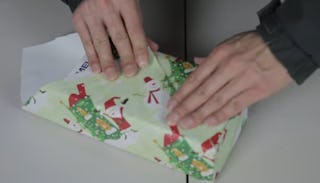 Image via YouTube
Mesmerizing video shows how to wrap a gift in a few easy steps
A viral video showing an "easier" way to wrap gifts is making the rounds on social media, just in time for the holiday season. Actually, it's a viral video based on another viral video, meant to simplify the original and slow it down a bit. There's so much buzz about the whole thing that we decided to check it out for you guys. Spoiler alert?
We still suck at wrapping gifts.
Japanese department store Takashimaya has gone viral more than once for their revolutionary and supposedly foolproof gift-wrapping process. They claim it only takes 15 seconds, and that seems reasonable for a pro, but rather bold for a clumsy mom wrapping gifts while a few glasses of pinot deep. Check out their instructional video that has over 14 million views and see what all the fuss is about.
Good lord. Anyone else as lost as we are? Those hands move so quick and our scissors are still snagging on the paper and there's pieces of tape all over our LuLaRoe leggings and holy shit, PLEASE SLOW THE FUCK DOWN.
Enter a very nice young man's tutorial featuring a little more explaining and a lot less lightning hands. YouTube user BeatTheBush must have heard the collective thud from us tossing our phones across the room in frustration and came to the rescue. After watching him do it, we're calming down a teeny bit.
OK, so there's still a lot to unpack here if you're like me and math and angles make you sweat like a sinner in church, but this guy's instructions almost makes sense. At least he's slowed it down enough that our heads aren't spinning after trying to take it all in. Because with the original version, ain't nobody getting that shit done in 15 seconds.
However, this video only shows how to wrap a perfectly rectangular box. As a parent who's been forced to wrap gifts in all shapes and sizes with only a scant few being a completely bulge-free silhouette, I have to wonder — is there a speedy wrapping hack for bulky superhero figures or those oddly-shaped Hatchimal boxes? Because then we'd really be impressed.
Come to think of it, there is. You can learn to wrap rectangle boxes like a department store pro, or you could employ my secret time-saving gift-wrap method that's sure to take the internet by storm.
Gift bags and tissue paper.
H/T POPSUGAR