A Conversation With Melissa Bernstein Of Melissa & Doug On Play, Parenting, And The Need To Take Back Childhood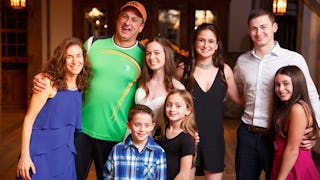 For my son's 1st birthday, he was gifted the sweetest little Melissa & Doug tool box. I'll never forget the look on his face when he saw it. It was filled with his favorite tools he could actually play with, and after laying eyes on it, he couldn't have cared less about all his other gifts — he was so focused he didn't want to open any of them. That summer, we hired a builder to add a deck to our house and my son spent many hours alongside of him with his hammer and saw. He even slept with his little tool box and carried it wherever we went.
And I also remember the first time I handed him an iPad. Immediately, my monstrous toddler was happily entertained and I could actually take a much-needed shower in peace. It was glorious.
As the kids today say, the struggle is real. Yes, it's sometimes easier for me as a parent to hand over a device to my kid, especially while trying to get through the grocery store or an appointment. But at what price?
Recently, I had the chance to speak to Melissa Bernstein, co-founder of Melissa & Doug and mother of six(!), about how our kids are being robbed of the benefits of true, child-led playtime due to the impacts technology and other societal pressures have had on our lives. We talked about the crisis at hand, the possible solutions, and her passion for the mission she's on to Take Back Childhood.
What inspired you and your husband Doug to start your company?
Nurturing play has been a building block (pun intended!) of our company from its earliest days 30 years ago. Doug and I both had parents who were educators so I think that desire to do something for children was always in our genes. We knew we wanted to make toys that could serve as a kind of launch pad to ignite imagination. For us, the truly magical part is not necessarily the toy, but what children bring to the toy — that sense of wonder and discovery. That's how kids learn and make connections and open up their minds to see all the possibilities in life. Play is a crucial part of how kids form their identities, discover their passions, and develop the essential social and cognitive skills that will help them succeed and find fulfillment.
How do you try to set yourself apart from other toy companies?
We try to make products that offer kids multitudes of different ways to play: toys, crafts, and games that stimulate imaginations and send children on journeys of discovery. We had our first success with a wooden touch-and-feel farm puzzle. It was a simple idea — take a classic play pattern and add a twist to it that would engage kids' senses. That became a big part of our approach — looking at the traditional ways kids play and building on those ideas to create something new and appealing, and of course doing it all with the highest quality and safety standards in mind.
We believe toys, in essence, are really just a means for expanding the mind and sparking innovative thinking.
You have six children! What has that been like?
For me, family is everything! Motherhood has helped me rediscover finding wonder and awe in the simplest of things. My children have helped me to see the beauty that is around us every day — from splashing in puddles and eating ripe raspberries right off the vine, to blowing dandelions and finding that first star in the night sky and making a wish. My kids have helped me keep that curious, wonder-filled child alive inside.
But being the mother of six has also given me insight into the changing nature of childhood. I had two kids in my 20s, two in my 30s, and two in my 40s. So I've really had a firsthand experience of the impact that both the rise of technology and the pressure-filled performance culture has had on children, mine included.
What kind of changes are you seeing?
Well, for example, I used to take my oldest kids to their sporting events and you'd see the younger siblings on the sidelines making up their own games, using their imaginations, being active. Today, you see the little brothers and sisters huddled around a smartphone or tablet. It's not good!
We're starting to see research come out now about the rise of anxiety and depression in our young people and the link to too much time on screens, too much stress over academic performance, and too many scheduled activities where kids don't have control and freedom to fill their time as they wish. And then, of course, there's the educational factor and how our schools are caught up in teaching to the test rather than nurturing children's curiosity. I could go on and on.
What do you think we can do about it?
We need to seriously reframe the way we think about childhood, parenting, and even success. I've been trying to use my platform at Melissa & Doug to spread the word that we must take back childhood as a time for imagination and wonder. So many of us parents have the same dream for our children — that they grow up to be happy and fulfilled. Yet by not giving them more freedom and downtime in childhood where they can really play and explore on their own terms, while developing essential social skills, resilience, and creative thinking abilities, we're hurting them in the long run.
I truly believe that giving our kids free, unstructured time is one of the greatest gifts. Children need that time for exploration and discovery. It's how we can help put them on the path to true fulfillment. Oh, and p.s., it's not just kids who need play. We grown-ups need it desperately too!
Is it all fun and games working at Melissa & Doug?
We're truly lucky to be doing what we do! And I promise you, we work HARD each and every day, but we also want to infuse a sense of playfulness in all that we do. I recently started gathering small groups together at the office for what we have been calling "Play-Full Life" chats. The idea is to explore how we can each incorporate more play into our own lives because adults need to recharge and reconnect with those activities that inspire us. We started something called the #ThrowbackChildhoodChallenge where we asked our followers on social media to share short videos of how they played as kids. It has been so much been fun seeing everyone get in touch with their inner child! Kristen Bell even got in on the action!
What inspires you? How do you like to play?
Music had always been a passion of mine, but I somehow lost touch with it over the years. Recently, I decided to replace the podcasts I'd been regularly listening to on my commute with a playlist of some favorite songs. I realized that the podcasts, while often informative and even enlightening, were also weighing on me — that heavy feeling you have coming out of a college lecture. I also had been feeling intense pressure to keep up with each new podcast that appeared in my feed.
I can't even begin to tell you how life-changing this was for me! It gave me energy, and it also gave me the time and space to let my brain wander and PLAY with my own creative ideas. It's a small, simple thing that has given me so much joy!
Sometimes it feels almost impossible to pull our kids away from their devices. What can parents do?
It helps to have some ideas on hand to redirect them. We've compiled a list of "weekend play ideas" — easy activities that you can have at the ready for when kids are anxious for something to do. And while we call them weekend play ideas, they're great for anytime, really. I'm a big fan of giving kids a little inspiration to get them started but then backing off so they can take it from there. Kids need to learn to be okay with a little boredom now and then. If they can learn to fight their way out of boredom by using their own imagination and creativity, it will serve them so well in life.
Thanks so much, Melissa!
This article was originally published on