Why You Need To Be Watching 'Tales Of The City'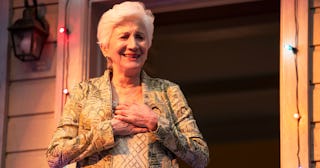 Alison Cohen Rosa/Netflix
Perhaps you've seen Tales of the City while scrolling through Netflix recently, or maybe this is the first time you're hearing of it. Either way, you need to clear your schedule to binge this must-watch show.
Tales of the City is the continuation of a PBS miniseries from the early '90s, which is based off a series of books by Armistead Maupin. Though it's the end of the story, you don't have to watch the original miniseries for the new one to make sense.
All of the events in the new series stem from one event, the 90th birthday of Anna Madrigal, a transwoman living at 28 Barbary Lane, a boarding house in San Francisco. Olympia Dukakis plays Anna, a role she's played since 1994. Dukakis isn't the only original cast member to reprise their role — all of the older main characters are played by their original actors, including Laura Linney as Mary Ann. Netflix likely made that casting decision to draw in fans of the original.
We open up to Anna's birthday party and you see the newest inhabitants of Barbary Lane: Ellen Page as Shawna, a 25-year-old pansexual woman and the daughter of Mary Ann, who hasn't seen her in 23 years. The other characters are a diverse blend of young and queer folx, befitting the backdrop of San Francisco.
There's Jake, a transman and Anna's primary caregiver, and his girlfriend, Margo. Michael (aka Mouse), who is Mary Ann's best friend, a middle-aged gay man with HIV, and his much younger boyfriend. Jennifer and Jonathan are twins and their sexuality is unknown, but they represent the young millennial influencer culture.
The throughline of the entire series is a documentary made by Claire, a young and mysterious woman, about queer life in San Francisco. Barbary Lane is legendary as a safe haven for the queer community with a larger than life reputation thanks to Anna. At the start of the series, Anna receives a note threatening to expose her "very big secret." In trying to figure out who the blackmailer is, Anna is forced to reveal her secret to her family.
One of the themes of Tales of the City is the idea of found family. Making your own family is especially prevalent in queer communities, as queer folx aren't always accepted or understood by their families of origin. Everyone ends up at Barbary Lane seeking refuge and a place to grow within the safety of its walls. Though they're not blood relatives, they love and treat each other as family.
Within the safe space Barbary Lane creates, the characters can find themselves. No matter how old you are, self-exploration and reflection are important. But many of the characters are in their 20s. So in addition to figuring out who they are, they're trying to figure out how they fit into the world. Not all young people have a soft place to land, but these kids do, and you can see how it allows them to soar.
Tales of the City never shies away from the difficult conversations in queer relationships, including HIV, transphobia, and racism. When you have a team of only queer writers, as the show does, it shows. No two people have the same queer journey. And the show really makes very strong examples of not only racial diversity, but queer rep.
The dinner scene is one of the realest scenes in the entire series. We don't talk enough about the transphobia and discrimination within the LGBTQ+ community. And the show touches on it twice, which is almost unheard of. The LGBTQ+ community is still fighting for respect and visibility, and while earlier generations opened the door, younger generations are kicking it down too.
But the most poignant episode of the show is definitely episode eight, where we learn Anna's backstory. The episode ties Anna's story to the real life Compton Cafeteria Riot of 1966, and the events surrounding it are what leads her to live at Barbary Lane.
This new Tales of the City is not as much of a soap opera type miniseries as its predecessor. It tackles real issues and doesn't shy away from them. But alongside that, there is a lot of heart. All of the characters feel real, like people with pulsing heartbeats. You will laugh and you will cry.
Yes, it is largely a story about the queer community, but it's also so much more than that. It's about family — the people who love you even when you're unlovable. The people who see you in your heart and accept you, even if you're messy and imperfect. And if that isn't unconditional love, I don't know what is.
We are Scary Mommies, millions of unique women, united by motherhood. We are scary, and we are proud. But Scary Mommies are more than "just" mothers; we are partners (and ex-partners,) daughters, sisters, friends… and we need a space to talk about things other than the kids. So check out our Scary Mommy It's Personal Facebook page. And if your kids are out of diapers and daycare, our Scary Mommy Tweens & Teens Facebook pageis here to help parents survive the tween and teen years (aka, the scariest of them all.)
This article was originally published on