Talk To Your Kids About Racism Early And Often -- Here Are Books To Help
by Amber Leventry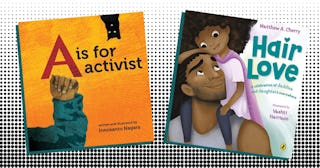 I hate that some parents think their kids are too young to talk about or be introduced to certain subjects. Kids are smarter than we give them credit for, and are usually the ones who can see through the complicated layers of excuses or biases adults place on what we think are complicated topics. If Sesame Street can cover poverty, homelessness, ableism, homophobia, and racism, then you can find age-appropriate ways to introduce your kids to important topics so that they don't add to the ugliness of the humanity.
Racism is a very ugly problem in our country, and our kids need to be aware of injustices. They also need to see and celebrate people of color. Here are 17 books to help you talk to your kids about racism while normalizing differences.
Board Books
Whose Toes Are Those? is a fun rhyming book that celebrates beautiful brown toes and the babies who have them.
From the author of A Chair For My Mother, "More, More, More," Said The Baby is brightly illustrated and showcases multicultural families.
3. Woke Baby, by Mahogany L. Browne
Woke Baby is a lyrical book that empowers babies to grow up to fight for justice and change the world.
Each book in the "Ordinary People Change The World" series packs in a poignant history lesson. Seeing heroes and history makers as children and in cartoon form draws my kids in each time. I Am Strong introduces the smallest readers to Rosa Parks. I Am Brave: A Little Book About Martin Luther King, Jr. is available too.
This ABC board book is about as progressive as you can get. A Is For Activist will educate you and your baby on the necessary themes, people, and ways to fight for civil rights and the environment.
Picture Books
Parenting expert Doyin Richards teaches kids to accept diversity by acknowledging our differences, but focusing on what makes us the same, in What's The Difference?
7. Hair Love by Matthew A. Cherry
Hair Love is a celebration of a father's love for his daughter and an empowering story of Zuri loving her natural hair.
I Am Jackie Robinson is part of the longer and more detailed versions of the "Ordinary People Change The World" book series. This books shows kids how brave Jackie Robinson was to become the first African American baseball player in Major League Baseball.
When black siblings hear protests against police violence outside their home, their parents teach them (and our children) about the importance of protests, rallies, and marches. Daddy, There's A Noise Outside provides a modern take on a long-standing problem in our country.
Sonya Whittaker is a school based therapist and social worker and mother to two black sons. Her book, Mama, Did You Hear The News? is about Avery and his brother getting "the talk" about racism and police brutality after little Avery learns of an unarmed man shot by a police officer. It is a heartbreaking but honest look at the different set of rules black men in particular have to play by when it comes to law enforcement. Avery learns a chant to remember the rules to come home alive.
Simple text and fun illustrations highlight the diversity and beauty of our many shades of skin.
Skin Again helps kids understand that the phrase "you can't judge a book by its cover" also applies to skin color. By letting go of our biases and assumptions, we can get to know other people for who they really are on the inside.
Hidden Figures is a nonfiction book based on the New York Times best selling book that was made into a movie. This lovely book shows the perseverance of four black women who sent men to the moon during a time when neither women nor black people were given much respect.
Crown is a beautiful look into the confidence and self-esteem a black boy feels when he walks in and out of a barbershop. The book celebrates African American culture and the swagger of Black joy.
Middle Grade Books
One Crazy Summer is an award winning book about three sisters who travel from Brooklyn to Oakland to stay with the mother who left them seven years before. Their mother sends them to a day camp run by the Black Panthers. The book offers a lot of heart and humor as the girls learn about their history. This is the first book in a trilogy.
16. Ghost Boys by Jewell Parker Rhodes
Ghost Boys was the #1 Kids' Indie Next Pick about a 12-year-old black boy, Jerome, shot by a police officer who thought the boy's toy gun was real. We see the aftermath through the boy's ghost as he meets Emmett Till (historical figure also killed by racism) and Sarah, the daughter of the police officer who killed him. Jerome begins to understand the complexities of America's issues with Blackness after his death.
Woodson packs her book Brown Girl Dreaming full of beautiful poems about what it was like to grow up as an African American in the 1960s and 70s. President Obama named it an Oprah Book Club pick.
These books add necessary representation and education to your home libraries, and thankfully there are many more. Use them to talk about racism often and early, and if you really want to double down on being an ally, purchase these books from Black-owned bookstores as much as possible. If you can't afford to buy a book, call your local library.
This article was originally published on