'Talking Dead' Staffers Quit Show In Protest Of Chris Hardwick's Return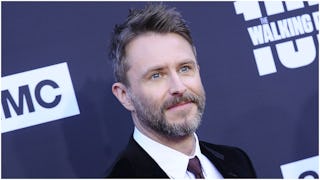 Image via Jason LaVeris/Getty
Chris Hardwick is back to work after abuse allegations and some of his co-workers are protesting
This past June, television host Chris Hardwick was temporarily removed from his job at AMC's Talking Dead after his ex-girlfriend Chloe Dykstra accused him of emotional abuse and sexual assault. Then, about one month later, he was reinstated by the company. This didn't fly with some staffers, who took a firm stand and quit their jobs in protest of his return.
One female executive and approximately 25 Talking Dead staffers reportedly quit their jobs after Hardwick was given the green light from AMC, according to The Wrap. The studio released a statement last month that explained they were standing behind their talk show host, who has denied any wrongdoing.
"Following a comprehensive assessment by AMC, working with Ivy Kagan Bierman of the firm Loeb & Loeb, who has considerable experience in this area, Chris Hardwick will return to AMC as the host of Talking Dead and Talking with Chris Hardwick," AMC said. "We take these matters very seriously and given the information available to us after a very careful review, including interviews with numerous individuals, we believe returning Chris to work is the appropriate step."
Hardwick's name was also restored on Nerdist, the site he founded.
One of the Talking Dead employees told The Wrap that Hardwick called a "very emotional" staff meeting and seemed "apologetic and contrite." He reportedly offered one-on-one meetings with staffers who had any concerns to discuss with him.
It's worth pointing out that Dykstra's story has been bolstered by several people who either worked with Hardwick or heard stories about him. Former co-workers have publicly and anonymously expressed that they weren't at all surprised when they read Dykstra's account, which detailed instances of intense emotional manipulation and menacing.
"Everyone can think back to incidents with Chris that line up with something in that story," one former employee said. "You don't see anybody saying 'That's not the Chris Hardwick I know,' because that is the Chris Hardwick most people know."
And Donna Dickens noted on Twitter: "As someone who writes for Nerdist, let me just say…Chris Hardwick is a piece of trash and I believe women."
Meanwhile, Dykstra is standing strong and sticking by her story.
"Hey dudes. Just a reminder: I 100% stand by every single word of my essay," she wrote on Twitter this week. "I made sure it was unembellished, factual, and that I had evidence to back it up in order to protect myself in case of ACTUAL litigation (not a network investigation, where I'm not protected). That is all."