Florida Yoga Studio Shooter Has Disturbing History Of Violence Against Women
by Cassandra Stone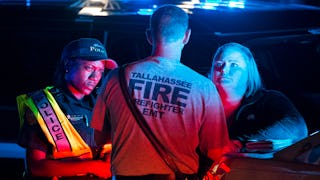 Image via Mark Wallheiser/Getty Images
The shooter was a proud misogynist who had a history of groping women
On Friday, a man opened fire in a yoga studio in Tallahassee, Florida, killing two people and wounding four others before turning the gun on himself. News reports now show he had a disturbing history of violence and threats against women, and was a self-proclaimed misogynist who filmed himself ranting against women and minorities.
Local police identified the shooter as Scoot Beierle, and his record speaks for itself. In 2016, he was charged with battery after slapping and grabbing a woman's buttocks at a public pool. Prior to that incident, he charged with battery in 2012 for grabbing women's buttocks in a Florida State University campus dining hall.
The shooter also had a YouTube channel, where he posted several videos of himself going on lengthy, racist and misogynistic tirades where he called women "sluts" and "whores," and also whined about the "treachery" of girls he attended high school with, according to Buzzfeed News. In the videos, he talked about women he'd gone on dates with, and in one instance says he could have "ripped her head off" regarding a woman who canceled a date with him.
Tallahassee police say they cannot comment on whether women were specifically targeted in the yoga studio attack. They're also trying to identify a motive while they investigate "everything that he has a connection to."
Here's the thing. Maybe the police can't publicly identify the motive, but drawing the conclusion that he absolutely intended this as a crime against women isn't a leap. This man self-identified as a misogynist, had a disturbing, criminal history with groping women, and yoga, in general, is typically female-dominated.
Dr. Nancy Van Vessem and Maura Binkley are the innocent victims of a proud hater of women — an admitted incel killed these women, and he made no secret about his disdain for all women throughout his adult life, so this conclusion is not a difficult one to draw. Additionally alarming is that the shooter served in the Army from 2008-2010.
Many people are disturbed by the fact that this man was easily able to attain firearms.
Not surprisingly, the videos made it clear the shooter's political affiliations leaned far-right. He was openly racist and critical of the Obama administration.
After both documented groping incidents, prosecutors dropped the charges. While it's impossible to say whether this tragedy would or could have been prevented, this is just the latest tragedy that proves believing women and taking their assault claims seriously is a valid red flag.