Tammy Duckworth Will Be The First Sitting Senator To Give Birth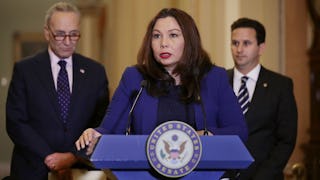 Image via Chip Somodevilla/Getty Images
Duckworth announced she was pregnant with her second child, her first while a sitting US Senator
Tammy Duckworth is used to making history. She's the first Asian American woman to be elected to Congress from the state of Illinois and the first woman with a disability to be elected from any state. She will now be adding another "first" to the list — the first sitting senator to give birth while in office.
Duckworth is due to give birth to her second child in late April, a little sister for her daughter, Abigail. She won the seat in 2017 after serving two terms in the House. According to the Associated Press, there have only been 10 members of Congress to give birth in office (including her), but Duckworth will be the first senator. She shared the news with the public yesterday in an adorable tweet:
For those who are unfamiliar with the senator's story, it is the stuff of legends. She's a retired Army lieutenant colonel, serving for more than two decades in the Illinois Army National Guard. While serving in Iraq in 2004, Duckworth's Black Hawk helicopter was shot down and she lost both her legs in the crash.
The senator had difficulty conceiving her first daughter, Abigail, and was finally successful through IVF and became pregnant. "I've had multiple IVF cycles and a miscarriage trying to conceive again, so we're very grateful," she told the Chicago Sun Times.
She also told the Chicago Sun Times she decided to run for the Senate while on maternity leave with her daughter. "As tough as it's been to juggle motherhood and the demands of being in the House and now the Senate, it's made me more committed to doing this job," she said.
This woman is a force to be reckoned with.
It's amazing that since the first woman won a seat in the Senate in 1932 that Duckworth is the first to give birth while in office. Here's hoping she's the first of many because it's clear we're in need of smart, powerful women in government positions who understand the nuances of being a working mother. It's also a sad commentary on how hard it really is to be a working mom in America that it's taken since the birth of our nation for a senator to give birth while in office. But leave it to Duckworth to make history.
Motherhood, Duckworth notes, has most definitely impacted issues the senator has championed while in office. She has written measures ensuring moms have a place to pump at major airports, that the military has a uniform policy for giving parents time to bond with newborn and adopted babies, and to help students with children to have on-campus daycare options.
Congratulations on your pregnancy, Senator Duckworth, and thank you for everything you're doing for women everywhere.