Tammy Duckworth Becomes First Woman To Give Birth While Serving In U.S. Senate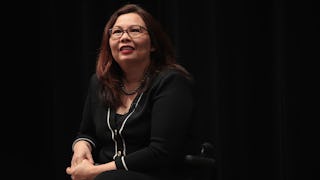 Image via Scott Olson/Getty Images
Senator Tammy Duckworth welcomed baby girl Maile
Illinois Senator Tammy Duckworth made history on Monday when she became the first United States senator to give birth while in office. Duckworth welcomed her second child to the world, a baby girl named Maile Pearl Bowlsbey.
The badass senator, who lost both of her legs serving in the Iraq War, is one of 10 women to have a baby while serving in Congress. The other nine ladies had their children while serving in the House of Representatives. But Duckworth has done that, too. She had her first daughter, three-year-old Abigail – when she was representing a suburban Chicago congressional district, the Chicago Sun-Times reported.
Duckworth and her husband, Bryan Bowlsbey, named baby Maile after another lady veteran in the family. "Pearl Bowlsbey Johnson was Bryan's great Aunt, an Army Officer & a nurse who served during the Second World War," the Democratic senator tweeted. "He spent many summer months with her while growing up, we feel her presence still and are grateful for her service to our nation during the most challenging of times."
Like a lot of families, the Duckworths had trouble conceiving. "We're also so grateful for the love and support of our friends and family, as well as our wonderful medical teams for everything they've done to help us in our decades-long journey to complete our family," she tweeted Monday. The senator said getting pregnant the second time was "a struggle," though her first pregnancy wasn't easy. After trying various fertility treatments over the years, Duckworth became pregnant with Abigail via in vitro fertilization. "I've had multiple IVF cycles and a miscarriage trying to conceive again, so we're very grateful," she shared with the Sun-Times.
And just like a lot of moms we know, Maile's arrival didn't follow the birthing plan Duckworth and her doctor created together. Her big sister Abigail had a cesarean birth, but baby Maile decided to join the world early. "It was such a rapid delivery that there was no time for a C-section or even to get across the river to the GWU Hospital," explained Duckworth Communications Director Ben Gash Garmisa. She was born at 7:07 a.m. at the Virginia Hospital Center.
The senator has been in the news for her various bills that help parents. She's made certain airports have places for breastfeeding mothers, and that student parents have on-campus childcare. She's become known for her support of affordable child care, paid parental leave, and other family health issues.
"Parenthood isn't just a women's issue, it's an economic issue and one that affects all parents — men and women alike," Duckworth said in a statement. "As tough as juggling the demands of motherhood and being a Senator can be, I'm hardly alone or unique as a working parent, and my children only make me more committed to doing my job and standing up for hardworking families everywhere."