Teacher Requests Backpacks At Her Funeral To Help Students In Need
by Jerriann Sullivan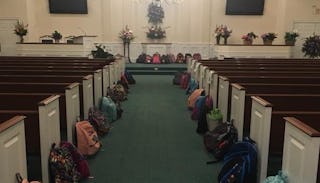 Image via Dr. Brad Johnson
Teacher's last wish was backpacks filled with supplies for needy kids
Instead of flowers at her funeral, a teacher's last wish was to receive backpacks filled with supplies for kids who might need them. Tammy Waddell didn't let cancer stop her – she remained an attentive, caring teacher even past her death with her request for school supplies.
Waddell taught in Forsyth County, Georgia, before passing away last month. Her final request was for her community to fill backpacks with school supplies and bring them to her funeral. "A teacher to the end," is how Waddell's cousin Dr. Brad Johnson describes her and her final act of love toward students. Johnson, who himself is in education, tweeted out a photo of the backpacks that lined the church pews during Waddell's service. The image is a reminder of how deeply teachers care about the students they teach.
"She discussed it with her kids when she realized she wasn't going to make it," Johnson tells Scary Mommy. "It was her last lesson, always think of others, always serving others." In addition to all of the children she helped in her classroom, Waddell impacted the lives of at least 100 other teachers, who attended her funeral service for a special reason. The teachers, who worked with Waddell over the years, acted as special pallbearers. They carried the backpacks filled with donated supplies from the service to students who need them. "I think it shows the power of teaching and the importance of teaching," Johnson says.
https://twitter.com/jetpack/status/1009140257902735362
After sharing the images on Twitter, Johnson's posts about his cousin's last wish went viral. Hundreds of comments on his original post flooded in and an educational organization in the United Kingdom stumbled upon the post and decided to help further Waddell's impact. That group is sending even more backpacks to the Forsyth County school district in memory of Waddell, CBS News reported. Johnson received so many comments from people who felt moved by the story and wanted to help that he tweeted out where you can send backpacks filled with school supplies to in the county where his cousin taught.
"As far as the reaction, in the world with so much negativity, I think it resonated hope in people," Johnson said. "Someone wrote that the chapel full of backpacks looked like a Garden of Hope. Her final lesson was to give hope to others through service to others."
https://twitter.com/jetpack/status/1011341433280790530
Rest in peace, Tammy Waddell. The world is a better place because of you.
This article was originally published on