Woman's Hilarious Video Is An Ode To Big-Boobed Women Everywhere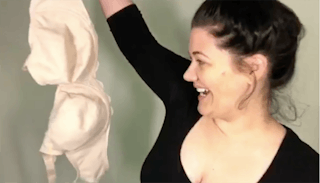 Image via Facebook
Her "Big Boob Issues" video will make you LOL and wanna show all your friends
The big boob struggle is real, y'all. Fashion is our enemy more often than it's our friend, which is insane when you think about the ratio of women who do not have runway model-sized breasts. While we can't do much to change that, unfortunately, we can have a good laugh about it, thanks to comedian Tanya Hennessy.
Behold, fellow Big Bosom Buddies, her viral video "Big Boob Issues" is what our dreams are made of.
"I was just wondering if you have any bras in a Double E? You do? How much are they? Oh, 900 dollars," Hennessy acts out, showcasing an enormous beige mass that is pretty much the only available option for anyone over a C cup.
You know, because nothing make a woman feel ravishing and sexy quite like the color BEIGE.
Hennessy address a variety of — you guessed it — issues that plague those of us with a larger décolletage. From fashion to nosy strangers, to fashion, to the physical burden of carrying these puppies around all day, to fashion.
"Why yes I have thought about a breast reduction, random stranger in Kohls, thank you." Okay, who are the people asking women they've never met about surgically altering their bodies? BYE.
"Have I hit myself in the face with them? Ha. I have, actually," Hennessy says. "I went to hospital."
OMG how do we make her our new best friend?
"Yeah you obviously don't have big boobs, because we can't wear strapless. We can't wear anything," she quips. Otherwise known as the nemesis of the large-breasted woman, strapless bras are a joke.
You pretty much have to save up a few paychecks and spring for a good "corset bra," according to the seamstress who altered my maid-of-honor gown for my sister's wedding this past summer. When I looked at my boobs in the sweetheart neckline of the gown, I realized she was absolutely right. She even squeezed her own big boobs in solidarity as we nodded together and sighed.
"A spaghetti strap? Ha. I mean, hilaaarious," Hennessy doesn't even waste half a breath on that ridiculousness. Because, come on. We can't even wear camis without a super supportive boulder holder on underneath.
Bra shopping sucks so badly, we pretty much avoid it at all costs. To buy two reliable bras you've got to be willing to shell out the equivalent of two utility payments. For bras. Those things that holds our boobs in place. Those things we can't wait to whip off at the end of the day.
And when we do, according to Hennessy, they look like "two Glad bags full of soup."
LOL. We love her and everything about this hilariously honest video.