This Mom's Sh*tshow Morning Will Have You In Tears Of Laughter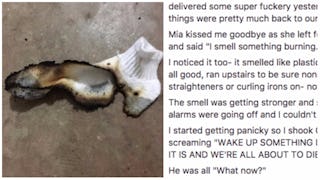 Image via Facebook
From a burning sock to a dead rodent, this story will make you LOL from start to finish
When you're a parent, you're intimately familiar with the phrase "one of those days." But guys, there are "those days" and there are Epic Shitshow Disaster days. Mom and Scary Mommy contributor Tara Wood shared her experience with the latter on Facebook this morning, and all we can say is good luck getting through the entire post without laughing so hard you cry.
Did we mention this was just her morning? Not even her whole day? Yeah. Buckle up, buttercup, because this is one for the books.
She starts off the post on a somber note about her dog, who was hit by a car last weekend and had to have surgery to amputate his leg (poor pupper). Naturally, Wood has been incredibly busy tending to his every need, because dogs are family, y'all.
And we all know what happens when a mom is busy — shit hits the fan. Or in this case, a sock. But we'll get to that in a minute. The craziness begins when she says her daughter Marigold noticed a burning smell in the house.
"I noticed it too," she writes. "It smelled like plastic melting- so I checked the toaster- all good, ran upstairs to be sure none of the girls had left their hair straighteners or curling irons on- nothing there." She says the smell started getting stronger, but none of the smoke alarms were going off and there was no smoke to be found.
What to do? Wake up your peacefully sleeping husband (because aren't they always blissfully unaware during times like these).
"I started getting panicky so I shook Garrett awake while low key screaming 'WAKE UP SOMETHING IS ON FIRE BUT I CANT FIND WHAT IT IS AND WE'RE ALL ABOUT TO DIE I THINK!'"
100% reasonable, if you ask us.
"He was all 'What now?' And I was 'BITCH SOMETHING IS BURNING IN THIS HOUSE AND THERE ARE SIX KIDS AND A HOBBLED DOG AND WE ALL NEED TO ESCAPE RIGHT NOW PUT ON YOUR PANTS AND HELP ME NOT DIE WOULD YOU?'"
OMG, "hobbled dog." We're screaming. But a bunch of kids and a lame dog and a mysterious burning smell? Yeah, we'd be sounding the alarms too.
They eventually determined the cause of the burning smell: her son Leo's burning sock. In the ceiling fan light fixture.
"So then I was all 'OH MY GOD HOLY SHIT WHAT IS EVEN HAPPENING LEO YOUR SOCK IS ABOUT TO CATCH OUR HOUSE ON FIRE WHY IN THE HELL IS YOUR STANK ASS SOCK ON THE LIGHT FIXTURE? WE COULD HAVE HAD A SOCK FIRE!' And while I'm standing in a chair and using one of Marigold's dolls- which now has a disfigured, melty head because it's what I used to push the flaming gym sock off of the bulb and onto the floor, Leo just sheepishly shrugged his shoulders and said 'Sock Fire' would be a cool band name.'"
OMG, you guys, if you're not howling at this then maybe you're without a funny bone. Or a soul. Because we're dying. Just please enjoy the post-mortem lecture she gave her son afterward:
"'YOU UNDERSTAND THAT THIS COULD HAVE BEEN CATASTROPHIC, RIGHT? AND YES THAT WOULD BE A COOL BAND NAME BUT RIGHT NOW I NEED YOU TO OPEN THE WINDOWS AND WINDMILL YOUR ARMS AROUND BECAUSE THE SMELL IS ALL IN MY MOUTH AND I JUST WASHED MY HAIR AND IMMA BE PISSED IF I SMELL LIKE A BONFIRE TODAY GET TO FLAILING, FIRESTARTER!'"
Because this day is the gift that just keeps on giving in the Wood household, there is more to this story. Wood writes she did some post-Xanax deep breathing and was thinking about how thankful she was that it wasn't more serious, when one of her daughters alerted her to the fact that her sister, Marigold, found a baby squirrel who "wasn't scared at all" about being held. So she went to investigate.
"And it was all true. Marigold was holding a six inch long baby squirrel. He wasn't frightened and was allowing her affection because he was dead as fuck."
We can't breathe, you guys. Oh. My. God. THIS POOR MOM. After realizing her daughter was keeping the dead squirrel "warm" in her shirt, she had to bribe her daughter with the promise of Doritos and a fudge pop (as one does) to wrangle the carcass from her grasp.
"I placed his very deceased, limp body in a plastic bag, gave Marigold a quick bleach scrub down and made good on my Doritos and fudge pop promise," she writes.
OK, we are in stitches over this story. Amazing. From start to finish. The singed sock, the plastic-bagged squirrel, all of it.
The best part of this Epic Shitshow Disaster of a day? "All of this happened before 7:00am. And that's how life reminds you that shit can always be weirder so just, like, roll with it."