Target's 1-Day Gift Card Sale Is Here To Save Your Holiday Budget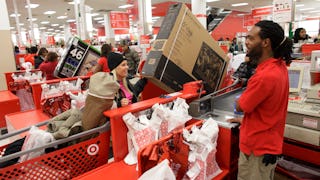 Image via John Gress/Corbis via Getty Images
Target's offering a sweet discount on their gift cards for one day only
Actual gifts wrapped in pretty paper (or tossed artfully in a gift bag, holler) are always welcome, but you know what present literally always fits? Gift cards. And what present not only always fits but is always MORE than welcome? Target gift cards. That's why the retail giant's one-day gift card sale is basically the equivalent of all the herald angels singing.
Anyone else already more or less setting cash on fire in their quest to buy gifts for everyone on their list? That's what we thought. Target's here to save the day with this Sunday's deal on Target gift cards — 10 percent off, both in-story and online, no coupon code needed!
There's a $300 limit per household, and that's like, a lot of savings. $30 is enough for a few pairs of leggings for yourself. Or new lip gloss or candy bars or whatever else your heart desires. Sure, you could spend it on gifts for other people, but we prefer to look at the savings as a finder's fee. If you're the designated holiday gift buyer in your house, you deserve a little perk here and there. Let Target love you a little.
On top of this amazing one-day deal, Target's offering a number of ways to help us out this holiday season including free 2-day shipping, same-day delivery, and drive-up service. They also have a spectacular selection of gifts this year including over 2,500 different toys. With Toys R Us shuttering its doors, that's news every gift-hunting parent can use.
And if this gift card deal isn't exciting enough, know that Target's doing special weekend deals every weekend in December to help you save money on all things holiday. They'll announce each weekend's deal the prior Wednesday, so make sure to check back often.
Not that we need any other excuses to obsess over the big red bullseye.