Target's Adaptive Clothing Line For Kids With Disabilities Is Fantastic
by Cassandra Stone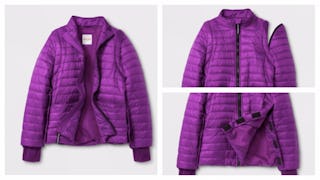 Image via Target
Target continues to pave the way in adaptive clothing for kids
Earlier this year, Target unveiled a new line of "adaptive clothing" that included sensory-friendly items like soft, tagless, and flat-seamed shirts and pants.
Now, their Cat & Jack line is expanding even further with adaptive clothing to accommodate kids living with disabilities.
Moms everywhere know the pot of gold that is the Cat & Jack line. Everything is adorable, well-made, and incredibly affordable. According to Target's corporate site, A Bullseye View, the latest additions to the adaptive clothing line include a 40-item assortment with features like side and back snap and zip closures and hidden openings for abdominal access. Getting any kiddo dressed and ready to go can present a variety of challenges, and these clothes seek to make it easier for kids and their parents.
"It's our goal at Target to always make sure we have products that fit our guests' needs, and all at a reasonable price point. We heard from our guests—and members of our own team—that there's a need for adaptive clothing for kids that is both fashionable and affordable, so we set out to create exactly that," said Julie Guggemos, the Senior Vice President of Product Design & Development at Target. "Since launching sensory-friendly apparel and receiving such positive guest feedback, we're focused on continuing to evolve and expand Cat & Jack to meet the needs of even more of our guests."
Each piece is made from extra-soft and durable cotton knits.
Some highlights from the assortment include outerwear with zip-off sleeves, footless sleepwear, and diaper-friendly leggings and bodysuits.
Another plus? The clothing is made from extra-soft, comfortable and durable cotton knits. The pieces will be available in toddler sizes 2T to 5T and big kids sizes XS to XXL.
Mari Anderson, the principal technical designer for Kids Apparel at Target, says she's always looking for ways to develop products that are functional and can help all different types of people. "Our team met with real kids to understand what their needs are in different types of apparel, then put our expertise to the test to create the products. Without a doubt, this has been the most meaningful project that I have been a part of."