Target's Black History Kids' Line Is Everything
by Christina Marfice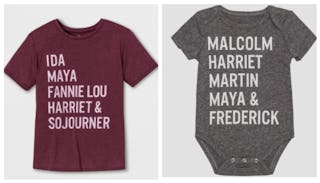 Image via Target
Target's Black History Month line is truly on point
One way to celebrate Black History Month is by wearing it — literally — on your sleeve.
Target is celebrating by releasing a line of Black History Month-inspired apparel, and honestly, it's perfect. The line celebrates the strength, power and contributions of American people of color by highlighting black artists and activists, celebrating Africa and proclaiming that "Black is the new black."
"This assortment is a celebration of African American heritage and heroes, both historical and contemporary—from books by visionary authors to special tees to music by groundbreaking artists," Target product design & development director Tawnya Artisst said in a press release.
The collection includes clothes for the whole family, from infants to kids to adults. According to merchandising director Travis McKinley, "Inclusivity guided this collection. We spent a lot of time making sure the assortment reflected our guests and appropriately celebrated African American history. Bringing this collection to life was truly a team effort."
That effort truly shows. One of the collection's most popular items is bound to be a T-shirt depicting the names of famous black activists from American history. It's available as a toddlers', kids' or adults' tee, and as a onesie for the littlest warriors in your life.
If badass black women artists are more your style, there's a design for that, too. It's available in women's sizes.
There are also a couple designs that honor African heritage, including this "Love" design. It's available in women's, kids', toddlers' and infants' sizes.
And this one, which reads "SOUL" in an African-inspired print. It comes in adults', kids' and toddlers' sizes.
Those two come in a few other designs, like this black tee with a trendy, galaxy print shape of Africa. You can get it in women's, kids', toddlers' and infants' sizes.
Another look that's sure to be a hit is a hoodie that reads "Black is the new black." We couldn't agree more. It's available in adults' sizes, but definitely could be worn by teens or older kids with a little bit of an oversized look.
Or grab a tee that pays tribute to the great Aretha Franklin, and one of her most iconic anthems. It's available in adult sizes.
A few items for girls speak to the beauty of natural hair by depicting it as flowers, like this long-sleeve tee in girls' sizes.
For grown-ups, there's a track jacket with a geometric Africa pattern, and "Stronger Together" emblazoned across the back.
The entire collection contains even more apparel, as well as personal care products, home decor, books, games and more. It's definitely worth browsing in its entirety.
Happy Black History Month. Wearing something this great is just one small way to celebrate everything black men and women have done for our country.
This article was originally published on