Recycle Your Old Car Seat At Target And Get A Sweet Discount On A New One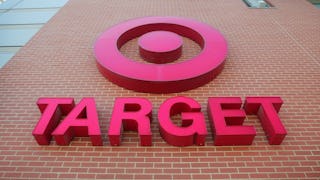 Image via Scott Olson/Getty Images
Just when we thought we couldn't love Target any more
For the last few years, Target has celebrated Earth Day by doing something that's great for the planet and parents everywhere: They let us all bring our outgrown car seats into Target stores to be recycled, nabbing a nice discount on a new car seat in the process.
This year, we just learned, the tradition will continue. Target will once again take that big hunk of hard-to-recycle plastic off your hands, and just for doing something nice to the Earth, you get 20 percent off your next car seat, booster seat, seat base, or travel system purchased at Target. Because you know you're getting it at Target. Where else would you get it? Target is bae.
Target confirmed in a press release that from April 22 to May 5, the car seat trade-in program will be running for its third consecutive year.
"Just in time for Earth Day, we're excited to be kicking off the third car seat trade-in program on April 22 at Target stores across the country," Michelle Wlazlo, senior vice president of apparel and accessories at Target, told Popsugar. "Since our first car seat trade-in program in 2016, we've recycled more than 176,000 car seats and have kept more than 2.6 million pounds of materials out of landfills. We know our guests increasingly look for products and experiences that are good for them, their families, and the planet, and our trade-in programs make it easy for them to make a positive impact on the environment."
While last year, Target partnered with Terracycle to get those old car seats made into something shiny and new, this year, it's debuting a new partnership with Waste Management, which upcycles car seats into grocery carts, plastic buckets, construction materials and more. Honestly, whatever it takes to get car seats recycled, since it's actually super hard to avoid tossing them in the landfill without programs like these. Car seats don't qualify for most curbside recycling programs and they shouldn't be sold or given away, since they expire often and safety regulations are constantly changing. And if a car seat is ever damaged in any way, or in an accident, even if it looks perfect afterward, it needs to be replaced right away.
Keeping all those used car seats out of the trash is a huge win for the planet. And it's a huge win for all of us, because any excuse to go to Target and nab discounted kid gear is a great thing. Happy Earth Day, one and all.
This article was originally published on