This Is Not A Drill: Target's Offering A Subscription Box For Baby Clothes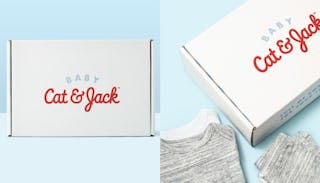 Image via Target
Target's Cat & Jack line announces baby clothes subscription box
Target is a treasure trove of adorable baby clothes. When you're looking for a cute onesies for your baby to wear on the daily or a dapper diaper look for family photos, a run to Target will have what you're looking for (and probably a couple things you didn't even know you needed).
But as much as we all love a leisurely stroll pushing a red cart, getting out of the house to go shopping with an infant isn't always easy. So Target's Cat & Jack line came up with the perfect solution: a new baby outfit subscription box.
For $40 a box (subscribing for a year's worth of boxes saves 5%) the Cat & Jack baby outfit subscription box gives you 6-7 pieces of clothing in your baby's size, plus a surprise gift. The boxes are available in size newborn through 24 months. If something isn't a perfect fit, no worries — you can return it. The clothing is shipped seasonally, so when warm weather finally hits you'll already have cute short sleeved outfits on standby.
Babies grow like weeds. It's easy to reach for a onesie after a bath only to realize the snaps won't connect under the diapers. So it's pretty genius that Cat & Jack's subscription box automatically sends you clothes aligned with your child's age throughout the year. This way you're not trying to squeeze your infant into pants that are two sizes too small just so you can go out to the store to buy new ones. It's also pretty fun that the subscription box pieces are all ones that haven't been released in stores yet. Sure, the most exciting place your baby goes is to the pediatrician, but they'll be the best dressed kid in the waiting room.
"Get ready for a little bit of everything," says the website of the new subscription boxes. "Our designers curated their favorite items of the season, making it super easy to style your little sweetie. From bodysuits & baby leggings to delightful rompers, all soft, comfy & perfect for snuggling. There's even a sweet surprise to complete any outfit. Enjoy this special collection and consider reusing the box for storing baby clothes, diapers, and even those memorable keepsakes."
Including a reusable box is a nice touch, because for such a small creature, babies have so much stuff to store. And we love how you can buy just a single box as a quick way to refresh your baby's clothing stockpile (or give a kickass shower gift). You can also change the size of clothing you receive using your online Target account or opt to skip a season's box (in case Grandma goes a little overboard in the clothing department during the holidays).
Quantities on the Cat & Jack subscription boxes are limited, so if getting cute baby clothes without having to get in the car and shop for them sounds like heaven to you, then jump on it. We only have one question — when will we see a subscription box like this from Target in our sizes?