Target Is Cleaning Their Stores Every 30 Minutes To Protect Against Coronavirus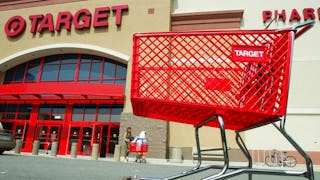 Alex Wong/Getty
Here are all the ways Target is helping slow the spread of coronavirus
Coronavirus is continuing its deadly spread across the globe. U.S. cases now number well over a thousand, Italy is still on total lockdown, and politicians are issuing travel bans in a desperate attempt to keep the virus from crossing borders. Here in the U.S., people have been panic buying supplies like toilet paper and hand sanitizer, and stores like Target know that as a frightened public rushes to get supplies, the danger of community spread grows more real.
Target CEO Brian Cornell just issued a press release detailing how Target stores are helping slow the virus's spread, and the measures they're taking are extensive.
"Over the past few days, so many of you have been in our stores and on our website stocking up on all the essential things you need to keep your families healthy and safe," Cornell wrote. "I want you to know that your health and safety is our first priority, too."
One of the first measures Target is taking is to add more hours to each store's employee payroll so they can make their daily cleaning and sanitizing process more rigorous. Surfaces like checkout lanes and touchscreens will be cleaned at least every 30 minutes, Cornell wrote. And food samples will no longer be offered in any stores.
If you've been struggling to find in-demand items like toilet paper, Target is restocking them as quickly as possible, and limiting sales per customer to help more people get what they need. The chain is also adding more staff to help meet the current demand for services like online order pickup and Drive Up, which allows shoppers to place their orders in advance, then pick them up curbside. Those types of services help limit close contact with other people, and social distancing is one of the best ways we can all contribute to fighting the coronavirus right now.
In addition to policies meant to protect Target shoppers, Cornell wrote that the chain is implementing some new policies to help its staff stay safe and healthy, too. Sick team members are encouraged to stay home, he wrote, and travel has been suspended unless it's business critical.
"At the center of our company's purpose is a commitment to help all families, and it's something we take to heart in good times and bad," Cornell wrote. "This is why we'll be working hard to keep our stores open so we can be there to support you and your families."