Your Favorite Clothing Brands Are Disappearing From Target Forever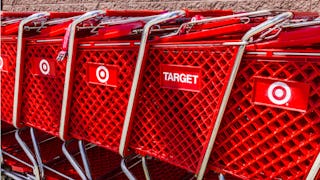 Image via Shutterstock
Target is doing a major brand shakeup
If you're a fan of all things Target, then you know their clothing section is on point. When you're looking for wardrobe staples like tank tops or a cute yet supportive bathing suit, brands like Merona and Mossimo have always been there for us — until now. The store is switching up the brands it carries in order to keep up with trends and compete with online retailers like Amazon, and Merona and Mossimo are definitely on the chopping block. So long, cute yet comfortable t-shirts that were almost always on sale.
If you've noticed the selection at Target lately isn't what you're used to be, that's because some stores have already begun to phase out their Merona and Mossimo clothes.
It's not just the women's department that's getting a makeover. We love the new children's Cat & Jack line, but the trade off was losing both Circo and the Cherokee clothing lines. Huge bummer, since they were quality yet affordable options for babies and kids.
The upside to the upheaval in our closets is that Target is rolling out more than a dozen new brands later this year that will only be available through them. So far, they have previewed four of them. There's a women's clothing line A New Day:
A sleek looking men's line called Goodfellow & Co:
The super trendy athleisure line JoyLab:
And the home décor line Project 62:
"Our new brands are all about the changing face of our guests — what they need, what they're looking for from Target. When we took a close look at our existing assortment with this in mind, we saw a disconnect. We knew we'd need to refresh our offerings — and define new ones — so our guests continue to love what they're discovering at Target and want to keep coming back, again and again," said Target's Mark Tritton.
We know that it's good to change up your look every now and then. And Target's never let us down before, so perhaps these new brands will be just as great as our old faves.
But we're running to Target anyway to snap up on what's left of the Mossimo and Merona stock, just in case. And if we're lucky, maybe things will be on Cartwheel. Or better yet, on clearance.