Target Has A New Disney Beauty Line And You're Going To Want Everything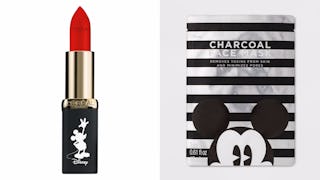 Images via Target
Affordable Disney beauty line available at Target
Target has a new line of Disney beauty products because they think of everything we need. In addition to being super cute, the beauty essentials are affordable. Our only complaint is that we wish there were more things to choose from the new collection.
We can't even with all of the adorable beauty products featured in the new Disney line. Who doesn't want Mickey bubble bath?
And this hand cream needs to go on our nightstands immediately.
The new collection includes skincare essentials like hand cream, face masks, hand sanitizer, and bubble bath. But the geniuses behind the Target-Disney combo also included some fun makeup like eyeliner, mascara, and lipstick. Plus, trusted brand L'Oréal Paris handled the production of the beauty products.
A precious Mickey hand sanitizer in my purse? Yes, please.
The items in the new beauty collection are classic Mickey and Minnie colors: black, white, and red. And most have an iconic Mickey or Minnie sillouhoutte on the packaging.
The affordable prices are pretty impressive, too. For example, 16.9 ounces of Mickey Mouse Bubble Bath in Berry Blossom will only cost you $4. And the L'Oréal Paris Mickey Mouse Collection Color Riche Matte Lipstick is only $6.
It's no surprise Target jumped at the chance to feature a Disney line of anything in their stores and online. People love Disney and its cast of characters. From Disney's Mickey Mouse line with Coach to the Disney jewelry collection the possibilities to express your whimsy in a grown-up way are endless.
This article was originally published on