BRB, Buying Literally Everything In Target's New Disney Clothing Line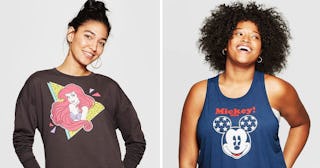 Target
Target's new vintage-inspired Disney line for women will have you feeling like a Princess all summer long
Gone are the days when Disney was "kid stuff." Millennials were raised on the golden age of classic cartoon films from the House of Mouse, and we're not willing to live an adult life without being able to sprinkle a little fairy dust on our day-to-day. Target understands that, because Target truly gets us, you know?
Our favorite store just dropped a brand new line of Disney apparel, and it's all for grownups. Oh, and it gets even better — it's all vintage-inspired, so it hearkens back to the Disney heyday of our youth. Seriously, anyone born from 1980 to 1995 is going to want to absolutely pack their closet with this stuff.
Let's start it off simple. We love this casual, high-neck tank with simple Mickey details, because we swear we had the same top around second grade.
Celebrate the release of the live-action version of a true classic from our younger years with a similar style, featuring a super cool vintage Dumbo motif.
Looking for something with a little more coverage? We get it, sunburns suck. So look stylin' and keep your shoulders out of the sun in a cute tee, like this one that's covered with a repeating Mickey pattern.
Or this one, that we're pretty sure you could actually buy at Downtown Disney in the '90s.
Need something to wear to the beach while you're beating the summer heat? This nautical-inspired Mickey tank is just the top you've been looking for.
We're also absolutely in love with this very vintagey "Once Upon a Time" tank that will make any woman feel like a straight-up Disney Princess.
Keep in mind that this summer is The Summer Of Disney™ with live action remakes of Aladdin and The Lion King set to hit theaters before the kids go back to school. Don't get tickets to these must-sees without some cute new clothes to wear to the theater. This Jasmine tank is a great option for next week, when Aladdin drops.
For later in the summer, when it's time to see The Lion King, you have several options for that, too. Check out this adorable "Hakuna Makata" tee, done in the same '80s style we love about everything in this line.
Or, if that's not your style, you're sure to love this roaring lion design. It's a little more subtle, but still Disney all the way.
And when the end of summer rolls around, and the days start getting a little chillier, you'll want to bundle up without losing any of the Disney magic. So how about this super cute Ariel sweatshirt? It'll look great with a pair of boots when you're ready to dig those out of the back of the closet.
Basically, Target is making sure you can rock something cute and Disney themed for the rest of 2019, and we are here. For. It. Happy shopping!
This article was originally published on