Target Employee Becomes Instant Sex Symbol In Hilarious Viral Video
by Valerie Williams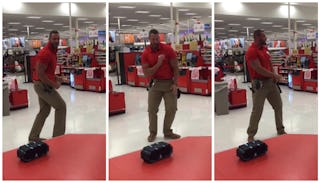 Image via Facebook
Why don't our Target employees have moves like this?
Hey there, moms. Are you still recovering from this morning's Sexy CGI Mr. Clean? Well, it's time for even more scintillating male dance moves in the form of a real, live, human who happens to work at one of our very favorite places.
That's right — there's a hot guy dancing at a Target near some of you.
Lucky bitches.
Chase Carlson is an Executive Team Leader in the Assets Protection department at a Target store in Des Moines, Iowa (cue a bunch of women saying, "he can protect my assets any time"). Now that this video of his sexy dance routine has gone viral, we'd venture that a whole lot of moms will be relocating their families to the area, because, oh my word.
Just watch.
The caption reads, "The things I do at work to make it fun for the team," and yeah, we can only imagine how "fun" this is for the female team members, good lord. Carlson's shaking it to Juju On That Beat by Zayion McCall, Zay Hilfigerrr, which yes, I had to Google, shut up, I'm 35. The video currently has more than 2.5 million views and the comments are full of women twirling their hair and wondering how they can catch a glimpse of him in action.
Truth, Karmel. Most of my Target employees, though incredibly nice and helpful, do not look like this. Which is probably a blessing in disguise, as I already donate half my family's disposable income there to begin with. If Carlson were at my store, I'd be spending many hours trolling the aisles in my finest LuLaRoe hoping to catch his eye on the security cam.
Carlson tells Scary Mommy he's been working at the store for almost two years and aside from a few high school musicals, he's never danced in any official capacity, saying "I really just like to goof off whenever I can."
As far as the reaction to his video going viral, Carlson's a great sport. "Quite a few customers have commented on the dance when they see me in the store and ask for pictures." And though they may hope to see his sweet choreography in person, he explains that his dancing's mostly done during off-hours or away from customers.
Pity.
The potential for overspending aside, since us moms have to be at Target so often anyway, (well, let's be honest, we want to be there), it would be nice to have a little entertainment and serious eye candy while we do our thing. Maybe Target should institute a Dancing Employees policy. Imagine how many more trips we'd take to pick up essentials (essentials being very loosely defined) if we knew we would see a hot dude shaking what his momma gave him every time we walked through the door?
Are you listening, Target? Please screen all future male employees to make sure they have sizzling dance skills. Oh, and make the popcorn free. Thanks.
This article was originally published on