Target's New Matching Harry Potter Family Pajamas Are Absolutely Magical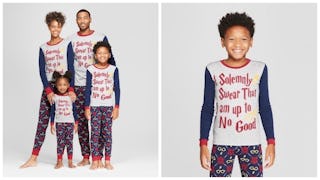 Image via Target.com
These matching Harry Potter pajamas are everything we need and deserve
Accio wallet! Target has just added Harry Potter pajamas to its matching family pajama collection and it's everything your family's wizarding world needs.
As we head into cooler temperatures (and holiday photoshoot + card season), matching family pajama sets are all the rage. And what better way to honor a beloved movie the entire family can watch and love than to make Harry Potter themed pajamas for every member of your household?
Featuring the famous line from the Marauder's Map, "I solemnly swear that I am up to no good," these jammies are perfect for your own mischievous marauders-in-training.
The print on the bottoms is adorable too — glasses, check. Lightning bolt, check. 'H' for Hogwarts (and Harry, duh), check. I've already added these to my mental Christmas list for several adult members of my family (and my own mini-Hermione).
If Harry Potter isn't your family's jam (blasphemy, really), then have no fear — there are plenty of family sets of pretty much every theme and variety you can think of at Target.com.
Halloween jammies! You can literally turn your entire family into a human pumpkin patch.
Or spooky skeletons.
Or buffalo-checked ghosts. I feel like this set is one shiplapped background away from being on the Gaines family Instagram accounts. Adorable.
And it's never too soon to start planning out those picture-perfect holiday cards, which is why this red plaid set is perfect to get a jump start on your family's Christmas aesthetic. Personally, our family's aesthetic is less "let's look great and take a great picture" and more "hey this looks comfy to wear sans bra as we blearily rub our eyes and open presents at 6 a.m."
If you're looking for a matching family set beyond themed holiday jammies, Target also offers some good stand-bys.
THE WHOLE DAMN SHARK FAMILY, DOO DOO DOO DOO DOO DOO.
Harry Potter magic is wonderful and all, but hello? The magic of unicorns is universal.
Since fall and winter mean it's darker outside earlier and in most places, too cold to enjoy longer than five minutes, if nothing else these family jammies are the perfect reason to stay inside together. Which is on-brand for all of us during this time of year.
Now watch as my debit card pulls a Wingardium Leviosa and makes its way to Target all on its own.