Target Has Free 2-Day Shipping All Holiday Season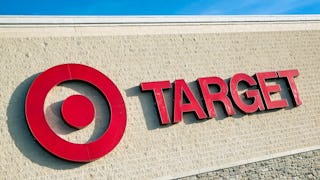 Image via John Greim/LightRocket via Getty Images
Target to offer free 2-day shipping and more just in time for the holiday season
Target is already every mom's favorite place to shop, but this holiday season, they're making it even harder to stay away from that big, red bullseye. The retail giant is rolling out some awesome new perks as we get ready to buy All The Things, and of course, we're absolutely here for it.
Let's break down all the ways Target is going to be making the holidays easier this year:
First, and most exciting, starting on Nov. 1 Target will offer free 2-day shipping to all guests with no minimum purchase and no membership requirements. Watch out, Amazon Prime, because this is big news. And if you use the Target Restock program for your must-haves like diapers, paper plates, etc., you'll be able to get next-day delivery of these household essentials for just $2.99. You can also eliminate the fee by becoming a REDcard holder.
Same-day delivery is now available across the country via Shipt, where you can grab a membership for $99/year. You choose your items on Target.com, a customer sales representative packs them up for you, and then a Shipt driver delivers them. The service will be available to millions of Target stores in 46 states.
Drive Up service was huge news when Target started testing it out in different cities, and now it's even better as the mega-retailer has expanded the program by nearly 1,000 more stores. "Place an order in the Target app and we'll have it ready within an hour, and bring it out to your car within two minutes," the company explained. Order Pickup lets guests start their shopping online then finish in store for free. This option is perfect for people who found something they love online, but also want to browse the store for additional deals. When you choose "Order Pickup" online, your items will typically be ready within an hour.
"We want to make the busy holiday season easier for our guests so they can spend more time with their family and friends," shared Target CEO Brian Cornell in a press release. No more wasted time in rush hour traffic for us. Instead, we'll be able to get all our Target favorites brought to us in whatever way fits best with our busy schedules.
But since the holiday season isn't just about how you'll get the gifts, but also about finding the perfect present for your loved one, Target's got a whole slew of new items. "Target is making it easier than ever to grab the perfect gift with a curated assortment of more than 1,400 new and exclusive gifts, most under $15," the company said. "The collections of gifts and stocking stuffers will feature options from across Target's multi-category assortment, satisfying even the toughest person on guests' lists."
Plus, they've added two times more toys to their list of gifts as well. It'll be Target's largest selection ever with a grand total of more than 2,500 toys. That's a lot to offer for the holidays and considering Toys R Us is no more, parents needed another option for all things play.
All we have to add is, hold on to your wallets, friends.