Target Is Selling A Giant Cookie Cutter That Makes 24 Christmas Cookies At Once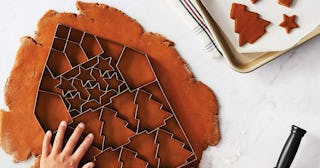 Target
You can make two dozen cut-out cookies at once with this giant cookie cutter
Baking for the holidays is fun, right? Ok, some people think it is. I happen to not be one of them and that's why I'm out-of-my-mind excited to pick up this gigantic cookie cutter from Target that promises to knock out two dozen cut-out cookies in one fell swoop. So I can return to my red wine and Hallmark Holiday movies as quickly as humanly possible, just like the baby Jesus intended.
Whether you hate holiday baking but take one for the team because your kids love it, or enjoy it so much that you commit to making dozens and dozens of cookies to share with family and friends every year, this handy-dandy item has you covered. Just roll out your dough once and you're basically done, if you want to be. You can pound out 24 cut-out cookies and either move on to the next batch or kick back and congratulate yourself on knocking another item off your holiday bucket list. I shall be doing the latter.
It's only $14.99 and like, is there a better busy holiday season bargain to be had? You can make an assortment of stars, Christmas trees, snowflakes, and houses all at once. It also means just one thing to wash instead of a bunch of little shapes that fit funny in your dishwasher and are a pain in the butt to get all the dough from every little nook and cranny. Bless Joanna Gaines — because yes, this cookie cutter comes from her Heart & Hand with Magnolia line at Target.
Naturally, this time-saving cookie cutter isn't all the Gaines family has up their sleeve for busy families this holiday season. Check out these adorable cookie stamps. You can skip the rolling of the dough altogether and just make balls of it to squish with stamps, resulting in some extremely cute Christmas cookies.
Or, you can kill two holiday baking birds at once with this super cool patterned rolling pin that leaves dough with a festively textured pattern.
Basically, Joanna Gaines and Target both love us and want us to be happy this holiday season, so whip up some dough and make it bake up nice and pretty. We won't tell anyone that you technically only made one cookie, not 24.